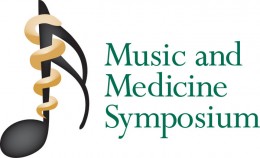 While most consider music an art and medicine a science, the two actually have much in common. There is a definite scientific basis to music, along with a deep mathematical component. Healing is an art that requires creativity, vision and clinical skill.
The Fourth Annual Music and Medicine Symposium, "Professionalism in Medicine and Music," to be held Sept. 11–12 at Wright State University, will explore how the medical and music communities can work together to encourage and teach professionalism in medicine and music.
The free event, cosponsored by the WSU Department of Music and the Boonshoft School of Medicine, will open with a concert by medical school faculty and guest artists featuring international opera performers and PBS's Hallelujah Broadway stars Rodrick Dixon and Alfreda Burke on Tuesday, Sept. 11, at 7 p.m., in Schuster Hall in the WSU Creative Arts Center.
On Wednesday, Sept. 12, the symposium will feature David Bronson, M.D., president of the American College of Physicians, the nation's second largest physician organization, and president of Cleveland Clinic Regional Hospitals, who will present "Defining Professionalism."
The symposium program also features Nicholas Rizzo, M.D., a clinical instructor of medicine at Northwestern University Feinberg School of Medicine, who will present "Personal Development of Professionalism." He is an internist with Chicago Lake Shore Medical Associates at Northwestern University and is the author of the book, Championship Nutrition and Performance: The Wrestler's Guide to Lifestyle, Diet and Healthy Weight Control.
The program will provide opportunities to learn about how physicians and musicians are trained to interact with the public. It will feature a music master class where renowned performers teach vocal music students the art of performing before an audience.
The symposium is presented by CELIA (Collaborative Education, Leadership and Innovation in the Arts), a WSU Center of Excellence.
To register, or for more information on the symposium, including full list of presenters, performers, topics and a daily schedule, visit www.wright.edu/music/music-med.