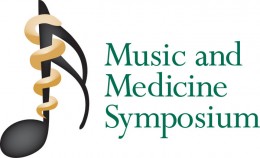 The Fifth Annual Music and Medicine Symposium, "Orchestrating Communications and Teamwork," will be held Oct. 29-30 at Wright State University. The symposium will explore how the medical and music communities can work together to foster communications and teamwork in medicine and music.
The free event, cosponsored by the Wright State Department of Music and the Boonshoft School of Medicine, will open with a concert by medical school faculty and guest artists featuring international opera performers and PBS's Hallelujah Broadway stars Rodrick Dixon and Alfreda Burke on Tuesday, Oct. 29, at 7 p.m. in Schuster Hall in the Creative Arts Center.
On Wednesday, Oct. 30, the symposium, which is 8:45 a.m. to 4 p.m., will feature several speakers, including Randall Paul, D.M.A., chair of the Department of Music; Cynthia Sheppard Solomon, R.Ph., president of SHEPPARD-SOLOMON Biomedical Consulting; Bruce Scott, M.D., assistant professor of internal medicine at the Boonshoft School of Medicine; Linda Brovsky, opera and musical theater director; Jerald Kay, M.D., the Frederick A. White Distinguished Professor of Professional Service and professor and chair of the Department of Psychiatry at the Boonshoft School of Medicine; and Nicholas Rizzo, M.D., a clinical instructor of medicine at Northwestern University Feinberg School of Medicine.
In addition, the symposium will feature a master class for vocal students taught by Burke and Dixon.
The renowned performers also will sing on Monday, Oct. 28, to patients and their families at Dayton Children's Hospital.
The symposium is presented by CELIA (Collaborative Education, Leadership and Innovation in the Arts), a Wright State Center of Excellence. There is no charge for the symposium, but space is limited. Registration is required.
To register and for more information on the symposium, including a full list of presenters, performers, topics and a daily schedule, visit www.wright.edu/music/music-med.