Hollywood superstar Tom Hanks will help lead a $150 million fundraising campaign for Wright State University that promises to further elevate the school's prominence by expanding scholarships, attracting more top-flight faculty and supporting construction of state-of-the-art facilities.
Rise.Shine. The Campaign for Wright State University was formally announced by President David R. Hopkins on Saturday, Oct. 18, before 600 students, faculty, staff, donors and other special guests at the Wright State University Nutter Center.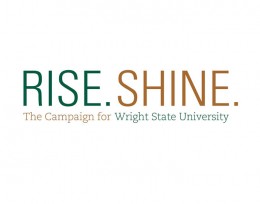 A total of $107,488,678 in gifts and pledges has already been raised, including a record number of gifts from alumni. At least 10 Wright State graduates have each pledged $1 million or more to the campaign.
"This campaign is all about student success. It will change Wright State forever and the generation of students to come," said Hopkins. "It's going to grow our prominence and relevance in 21st century education."
For the public launch of the campaign, the arena floor of the Nutter Center was transformed into a dazzling landscape that included a glittering makeshift chandelier and a kaleidoscope of towering video screens.
Serving as master of ceremonies was Wright State graduate Eddie McClintock, who has starred in numerous television shows and most recently played the role of a Secret Service agent in the popular Syfy series "Warehouse 13."
Singers, dancers and musicians also took to the stage. An artist delighted the audience by painting portraits of the Wright brothers upside down and then flipping them rightside up with a flourish. And there were poignant personal stories from Wright State students Emily Bingham, Aaron Palmer and Ian Kallay.
In its young life of 47 years, Wright State has become a shining star among Ohio universities, boasting two campuses totaling 730 acres and populated with more than 60 buildings.
Even more impressive, Wright State's success has been built on the brains and work of thousands of alumni who became the first member of their families to graduate from college. To date, Wright State has produced more than 110,000 graduates.
Wright State Provost S. Narayanan said the campaign will increase the value Wright State gives to its students, making them even more career ready and competitive in the job market.
"We're excited about the campaign because of the difference it will make to the students, their success and the future of the institution," Narayanan said. "It's going to be a lasting legacy."
Spearheading the Rise.Shine. campaign are co-chairs Amanda Wright Lane, great grandniece of university namesakes Wilbur and Orville Wright, and Hanks, Academy Award-winning actor, producer and director.
Hanks, who is currently working on the Steven Spielberg-directed film "St. James Place," recorded a video message for guests attending the campaign launch.
"Wright State is a rising leader in 21st century higher education," Hanks said. "From groundbreaking research to world-class fine and performing arts, this university truly has a mission that matters."
Hanks, who has starred in blockbuster films such as "Forrest Gump," "Apollo 13" and "Saving Private Ryan," has given a glowing endorsement of Wright State's theatre and the arts programs in the past.
Wright Lane said she is proud to be co-chairing the campaign.
"The most important reason to be a part of the Rise.Shine. campaign lies in the backpacking, parking space-seeking humans who roam this campus daily, aka the students, or the 'kids' of the WSU family," Lane said. "This campaign's and this university's mission is to provide the tools for every student's success."
The Rise.Shine. campaign will generate funds for numerous initiatives on campus, including:
Increased opportunities for scholarships, undergraduate research and experiential learning
Endowed professorships to attract top scholars
Construction of facilities that will propel Wright State students and faculty to the forefront of their fields
"We are very excited about this campaign and what it means for Wright State and our students," said Rebecca Cole, vice president for advancement and president of the Wright State University Foundation. "The impact of the generosity of our friends, alumni and the community is an enduring legacy."
In addition to the campaign launch in Dayton, Wright State will take the Rise.Shine. campaign on the road with nine regional events throughout the United States in 2015.
"This is our time to shine," Hopkins said. "People are going to be talking about Wright State not only in this community, but across the state and nation. Our time is now."
Learn more
For additional information about Rise.Shine. The Campaign for Wright State University, please visit rise.shine.wright.edu.