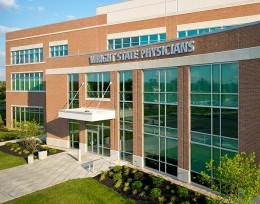 To better serve Wright State University students with disabilities, Wright State University and Wright State Physicians recently completed construction of a barrier-free, wheelchair accessible sidewalk from the campus shuttle stop in Raider Lot 20 to the Wright State Physicians Health Center, 725 University Blvd.
The wheelchair accessible sidewalk will provide students with better access to the health center. While the state-of-the-art building, which opened in June 2012, was already wheelchair accessible, Wright State Physicians realized that students who use wheelchairs needed better access from the campus shuttle stop to the health center.
"We recognized that students in wheelchairs, who traveled to the Wright State Physicians Health Center, either by the campus shuttle or the campus path, did not have direct, barrier-free access to our facility," said Alan Marco, M.D., president and CEO of Wright State Physicians. "We wanted to make our building even more accessible to those students."
Construction on the sidewalk, which was a joint project between Wright State and Wright State Physicians, began in early November and was completed in December. A new crosswalk was painted to designate a clear path from the campus shuttle shelter to the new sidewalk.
In addition to wheelchair accessibility, Wright State Physicians Health Center offers WrightCare, same day medical care, Monday through Friday, noon to 7 p.m.
Students, faculty and staff can be seen without an appointment. In addition, WrightCare offers flu shots daily.
For those who are traveling out of the country, Wright State Physicians Family Medicine also offers travel education and immunization services.
Wright State Physicians offers a full range of patient-centered medical services to Wright State faculty, staff and students. Affiliated with the Wright State University Boonshoft School of Medicine, the physicians at Wright State Physicians offer a concussion clinic, dermatology, family medicine, geriatrics, internal medicine, obstetrics and gynecology, orthopaedics and sports medicine, pediatrics, physical therapy, plastic surgery, reproductive endocrinology and infertility, rheumatology, surgery, surgical oncology, travel education and immunization services, vascular surgery and WrightCare.
For more information, call (937) 245-7000 or go to wrightstatephysicians.org.