When representatives from Reynolds and Reynolds and Wright State University cut the ribbon on the Reynolds Espresso Lane Coffee Pit Stop on March 11, it symbolized the latest collaboration in a partnership that dates back to 1975.
The new coffee shop in the Russ Engineering Center on Wright State's campus was made possible thanks to a $50,000 gift from the Reynolds and Reynolds Company Foundation.
"The Reynolds Espresso Lane Coffee Pit Stop creates a unique opportunity for us to publicly acknowledge the outstanding support we have received from Reynolds and Reynolds over the years," said Wright State University President David R. Hopkins. "Reynolds and Reynolds has long been one of Wright State's strongest corporate partners. They are a leading provider of student scholarships, and now our students can enjoy this beautiful new coffee shop."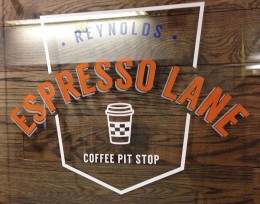 With their sponsorship of the Reynolds Espresso Lane Coffee Pit Stop, Reynolds and Reynolds' contributions to Rise. Shine. The Campaign for Wright State University now total over $1.1 million. This includes $740,000 for the Reynolds and Reynolds Leadership Scholars program, a scholarship initiative that attracts top students to Wright State's programs in engineering and computer science.
The Reynolds and Reynolds Foundation has also donated another $300,000 for the construction of a cafe in the Raj Soin College of Business. Currently under construction in Rike Hall, the 1,100 square-foot cafe will open this fall. It will be the first student-operated cafe at Wright State.
"For the past six years, we've partnered with Wright State to fund honor scholarships, and it's been gratifying to watch the impact the scholarships have had on students and on the university's efforts to recruit highly talented students," said Ron Lamb, president, Reynolds and Reynolds. "Now, through the Reynolds coffee cafes, we have a unique opportunity to broaden our support in ways that can have an impact on the setting in which students learn and interact."
In addition to financial support, Reynolds and Reynolds has provided more than 100 internships to Wright State students since 2008. They currently employ over 200 Wright State graduates. Several top leaders from Reynolds and Reynolds also serve on advisory boards at Wright State.
Reynolds and Reynolds' support extends beyond Dayton to Wright State's Lake Campus in Celina. The company provides scholarships to Lake Campus students and offers student internships at their Celina location. They have also established the Reynolds and Reynolds Computer Center at the Lake Campus. Reynolds personnel have served on the Western Ohio Educational Foundation Board for the last five decades.
"Reynolds and Reynolds epitomizes the type of relationship we want with our corporate partners," said Nathan Klingbeil, dean of the College of Engineering and Computer Science. "Whether it be scholarships for our incoming students, internships to propel them toward their future careers or this brand new coffee shop to help get them through the rigors of their academic experience, Reynolds and Reynolds always focuses its investments on the success of our students."
"All of us at Reynolds believe strongly in the unique role that universities can play in the lives of individuals and in our communities, and Wright State certainly fills that role exceptionally well," Lamb said. "Over the years, we've had a lot of success in recruiting talented Wright State graduates to Reynolds, and we're pleased to see our relationship with the university continue to grow and strengthen across a number of areas. We are hopeful that the Reynolds coffee cafes will provide a new dimension to our support for the university."