When he set out to record his first solo album, trumpet player Daniel Zehringer wanted to produce a new sound that stretched beyond the standard repertoire of his chosen instrument.
The result is "Journeymen's Songs: The Music of Steven Winteregg," featuring six works highlighting the diverse range and sound of the trumpet.
"I hope that this inspires people to listen more to the trumpet and also to open up their imaginations to the possibilities to what chamber music has to offer," said Zehringer, associate professor of music at Wright State.
People are certainly listening to Zehringer.
Since it was released in May on Navona Records, "Journeymen's Songs" has been featured on classical radio stations around the United States and overseas. The album sold out the first day it was available on Amazon. Zehringer has also been interviewed by local and regional media outlets, including WYSO, WDPR and WVXU.
The album features two solo performances by Zehringer. On other tracks, he performs duets, in a trio and with the Wright State Faculty Brass Quintet.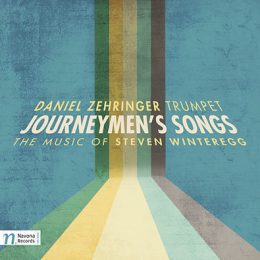 "I really was trying to create an arc that started with the trumpet by itself and then takes the listener on a journey through the possibilities of chamber music itself," Zehringer said. "This is my mark on my field. I'm trying to put things out that people haven't heard before and are excited about listening to."
The compositions on the album are original works by Steven Winteregg, professor of music at Cedarville University. Zehringer and Winteregg worked together when they were on the music faculty at Wittenberg University.
Zehringer recorded "Journeymen's Songs" in fall 2015 in Schuster Hall in Wright State's Creative Arts Center. He hired a sound engineer and edited each piece himself. On the album Zehringer is joined by School of Music faculty members Steve Aldredge, Don Compton, Franklin Cox, Eric Knorr, Thomas Lukowicz, Gretchen McNamara, Jerry Noble and Jonas Thoms.
"Journeymen's Songs" was supported by a grant from the College of Liberal Arts and the School of Music. Zehringer is donating all proceeds from album sales to the Wright State Trumpet Studio to help bring guest artists to campus and to purchase new horns.
Originally from Fort Recovery, in Mercer County, Ohio, Zehringer comes from a family of musicians. The youngest of 14 music-playing children, he first started playing the trumpet in fifth grade. His cousins are Rick and Randy Derringer (who changed their last name) who as members of The McCoys wrote "Hang On Sloopy."
"I thought it was normal for people to come home from school and practice for a couple of hours," he recalled.
Zehringer, who joined the School of Music faculty in 2006, serves as the head of the Trumpet Studio, leads the Trumpet Ensemble — which played for Tom Hanks when he visited campus in the spring — and performs in the Faculty Brass Quintet.
He is also the principal trumpet of Cincinnati Ballet Orchestra and the Springfield Symphony Orchestra and regularly performs with the Dayton Philharmonic Orchestra and the Cincinnati Symphony Orchestra.
Zehringer received a bachelor's degree in music education from Bowling Green State University, a master's degree in performance and literature from the Eastman School of Music in Rochester, New York, and a doctorate of musical arts from the University of Cincinnati College-Conservatory of Music.
He started his professional music career playing full-time in several orchestras. Zehringer started teaching music as an adjunct at Wittenberg, then at Xavier University, before coming to Wright State.
"The university environment is really great for artists because not only does it give us a great job and great place to work, but it also allows us the freedom to be highly creative," Zehringer said.
In between teaching and working with students, he has time to play in a brass quintet, record with a wide variety of artists and perform with orchestras.
He calls higher education a perfect fit for him.
"I love teaching and I love playing," Zehringer said. "Where else am I going to get the opportunity to do both at such a high level?"
Where to buy
"Journeymen's Songs" is available in the Wright State campus bookstore, on Amazon and iTunes. You can also stream the album on Spotify.