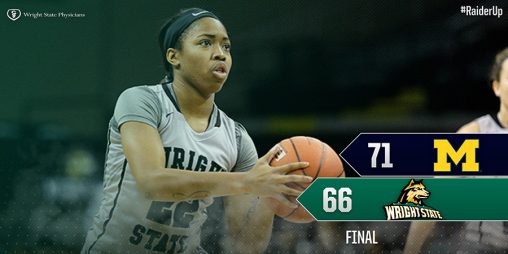 Down as much as 20 in the second quarter, the Wright State women's basketball team rallied to take a one-point lead in the final period, only to see Michigan close the game with an 8-2 run to defeat the Raiders 71-66 March 18 in the second round of the WNIT in Ann Arbor, Michigan.
Under the first-year head coach Katrina Merriweather, the Raiders finish the season 25-9 with a share of the Horizon League regular season title. The Raiders advanced to the second round of the WNIT after beating Central Michigan 66-64 on Match 16 at Wright State's Nutter Center.
It was all Wolverines in the early going as they jumped out to a 10-2 lead and were up as much as 14 in the opening stanza before a Mackenzie Taylor free throw and a Chelsea Welch layup closed out the quarter with the Raiders down 23-12.
Michigan extended the lead to 42-22 on a Danielle Williams three with 2:44 to play in the second period before the Raiders scored 10 straight points, including a pair of Taylor threes.
Wright State continued to chip away at the deficit in the third period, closing to within four at 52-48 on an Emily Vogelpohl layup at the 5:25 mark before heading into the final stanza down 61-54.
The Raiders completed the comeback with a 10-2 run to start the fourth quarter as a Welch layup gave Wright State its first lead of the game at 64-63 with 4:52 remaining.
Michigan went back in front with four straight points, but another Welch layup made it 67-66 with 1:07 left.
Wright State, though, would get no closer as Hallie Thome converted a put back at the 40.7-second mark and two Nicole Munger foul shots with 1.7 seconds left rounded out the scoring.
The Wolverines shot 45 percent from the field and hit 13 of 14 foul shots compared to 38 percent shooting and five of seven at the line for the Raiders.
Four starters scored in double figures for Wright State, led by Welch's 17 as the junior guard also added eight rebounds and four assists. Taylor chipped in 15 points while Smith had 12 along with eight boards, and Vogelpohl had 10 points and seven rebounds.