Sarah Cicora, an academic adviser in the Wright State University Department of Psychology, has used an at-a-glance calendar since graduate school. Because she worked part-time, attended graduate school and was a graduate assistant, she needed a monthly calendar to help her stay organized.
"I loved it because I could see the whole month. I could see at week one that three assignments were due in week four. I could plan ahead," she said. "It really helped me get through graduate school."
She wanted to provide something helpful to the psychology majors and minors who will take her seminar this year. She realized that the calendar that helped her so much might help her students as well.
So Cicora helped secure a donation from ACCO brands of 951 calendars for students taking first-year seminars at Wright State this fall.
Research has found that using a paper calendar can be more effective than a digital calendar, like those on a smartphone.
"When we write things down, we're more likely to retain the information as opposed to typing it. Second, when it comes to stress, the things we can see coming, we perceive them to be less stressful than things that hit us out of the blue," she said.
Along with reducing stress, Cicora said that writing down assignments along with personal events could help students plan their studying schedule accordingly.
"Not only do you write your school stuff on here, you could write down that there's a birthday party next week but you have a final the day after — let's study now. Let's plan now," she said. "That way you have a much better chance of being successful."
Since her personal calendar is from ACCO brands, Cicora contacted the company to see if it would donate calendars for her first-year seminar students. Her seminar has 30 students, and approximately 1,000 total students will take a first-year seminar.
Alexandria Gray, a Wright State graduate and local affiliate for ACCO, told Cicora the company would donate 951 calendars. Most calendars, Cicora said, cost around $15, so ACCO's donation totals over $14,000.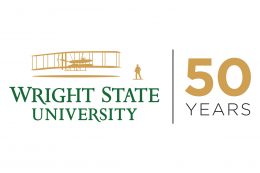 Cicora hopes the calendars will help with her students' academic careers.
"I need my calendar to see what is going on and I want that for my students too. College isn't easy, so I want them to have as many tools as possible to make sure they're successful," she said. "I wouldn't have done this if I didn't believe it could be helpful."
Wright State became an independent institution in 1967 and spent the next 50 years growing into an innovative leader in student success. In 2017, it celebrates its 50th anniversary as an independent public university, culminating with a special Homecoming celebration Sept. 29 through Oct. 1.