Brooke Moore, a 2010 Wright State University graduate, was promoted this summer to the evening co-anchor of WDTN 2 News. The Dayton native joined anchor Mark Allan and chief meteorologist Brian Davis on the station's afternoon and evening newscasts.
Moore and Allan will also co-anchor a new hourlong newscast on WDTN, the Dayton NBC affiliate, at 4 p.m. beginning Sept. 11.
"It's nice to be a part of things that are happening in the world and present it to the community where I grew up," said Moore.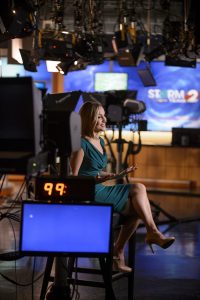 Moore is a 2010 graduate of the Mass Communication program at Wright State. "My education really set me up for success at my current job," she said.
She credits the internship requirements at Wright State and the professors in the Department of Communication for preparing her for the work force.
"The success of our students is the reason why we are here at Wright State," said Elliot Gaines, communication professor.
Moore is one of at least 17 Wright State graduates working in television broadcasting newsrooms in the Dayton area.
Originally founded as a branch campus of The Ohio State University and Miami University, Wright State became an independent institution in 1967. It celebrates its 50th anniversary in 2017, culminating with a special Homecoming celebration Sept. 29 through Oct. 1.