Wright State University professor Drew Swanson spoke at an exhibit about the Georgia gold rush, which took place 20 years before the Gold Rush in California.
Swanson, an associate professor of history, coordinator of graduate studies and director of public history, became interested in the Georgia gold rush while working on a book about Appalachia's environmental history. To research his book, "Beyond the Mountains: Commodifying Appalachian Environments," which is scheduled for release in 2018, he looked at natural commodities, including gold, and how they were tied to other regions.
Because Swanson earned his Ph.D. in history with a focus on environmental history at the University of Georgia, he was familiar with the Georgia gold rush. He also spent time conducting research for the book at state archives in Georgia and published an article "From Georgia to California and Back: The Rise, Fall and Rebirth of Southern Gold Mining" in Georgia Historical Quarterly.
The article motivated the University of Georgia's Special Collections Library to put on an exhibit on the gold rush. Swanson was a consultant for the exhibit.
As part of the exhibit, Swanson gave a lecture on industrial aspects of the gold rush. "It was more industrial and more capitalist than we usually imagine," he said. "It is a fascinating story of greed and westward expansion."
The lecture also covered the way that gold mining has set the model for Appalachian logging and coal mining, despite the impact that both of these have on the environment.
The exhibit tells the history of the nation's first major gold rush through original documents, images and artifacts. It even included a priceless collection of rare gold coins minted at Dahlonega, a national mint in operation in northern Georgia.
"I find the displays dealing with mining technology — including powerful water cannons used to wash away the hillsides, early dredge boats and crushing mills that extracted gold dust from quartz rock — fascinating," Swanson said. "We usually think of the early gold rush as a primitive endeavor but in some ways it was quite modern."
Swanson is the University of Georgia's 2017 Woodruff Visiting Scholar, a one-year honorary position provided by the James W. Woodruff Sr. Center for the National History of Georgia. The center provided support for the exhibit, as well as Swanson's travel to the university. As the Woodruff Visiting Scholar, Swanson co-curated the Georgia Gold Rush exhibit and gave his lecture.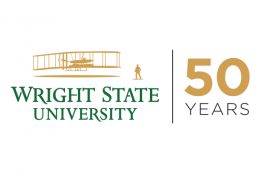 Originally founded as a branch campus of The Ohio State University and Miami University, Wright State became an independent institution in 1967. It celebrates its 50th anniversary in 2017, culminating with a special Homecoming celebration Sept. 29 through Oct. 1.