Wright State will celebrate the innovative spirit of its namesake, the Wright brothers, at Wright Brothers Day on Thursday, Oct. 5, from 11 a.m. to 2 p.m. in the Student Union Atrium.
Wright Brothers Day celebrates the 112th anniversary of Wilbur Wright's 39-minute flight on Huffman Prairie on Oct. 5, 1905. The flight demonstrated that the Wright brothers had advanced their design to the point of a practical airplane.
Students can meet and take pictures with Wright Brothers re-enactors from Carillon Park, including Ross Gaby, a 2016 history graduate who acts as Wilbur.
To highlight the spirit of innovation that drove the Wright brothers to build their airplane, Wright State will host university and local innovators who will display what they are working on.
Displays include technology from the Wright State Research Institute, such as a Baxter robot and an unmanned air vehicle, as well as a prosthetic arm from SmartMOVE, 3D printing technology and virtual reality.
Attendees can also learn more about the Wright brothers through a display on the Wright School of Aviation and Exhibit Team from the Wright State Special Collections and Archives, which houses one of the most complete collections of Wright material in the world.
Dawne Dewey, head of Special Collections and Archives, said the exhibit will feature photographs of many of the pilots trained by the Wright brothers, as well as the contract for the sale of the first airplane to the U.S. Army Signal Corps, along with medals they received and brochures and marketing materials from the Wright Company.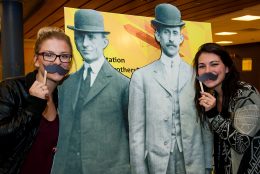 Chuck Edmonson, director of marketing for the Air Force Museum Foundation, will give the keynote address. Edmonson graduated in 1994 with a degree in marketing and is a member of Wright State's marketing board of advisors.
Along with the innovations and Wright Brothers re-enactors, the event will offer a Wright brothers selfie station. The station will feature cutouts of the Wright brothers, as well as derby hats and mustaches students can wear to take selfies.
Wright State's American Marketing Association Marketing Club hosts the event each year. John Adams, president of the club and a marketing major, encouraged students to drop by Wright Brothers Day.
"Wright Brothers Day really helps open a new horizon for students that may not see the connection between academics and professional accomplishment," he said. "We want students to be proud of attending Wright State and the namesakes we carry over from one alumni generation to the next."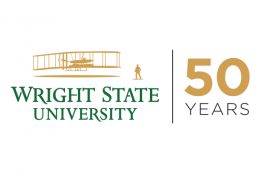 Wright State became an independent institution in 1967 and has grown into an innovative leader in the Dayton region and beyond, capturing the spirit of the university's namesakes, Wilbur and Orville Wright, who invented the world's first successful airplane from their Dayton bicycle shop. It celebrates its 50th anniversary as an independent public university in 2017, culminating with a special Homecoming celebration Sept. 29 through Oct. 1.