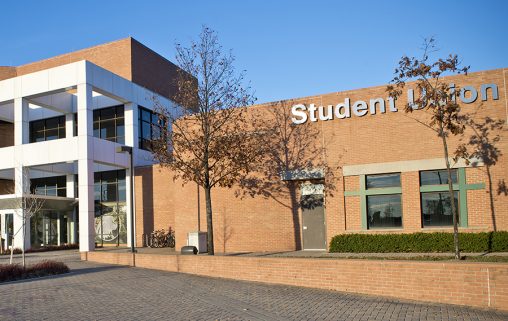 Hundreds of military veterans are expected to attend an event hosted by Wright State designed to improve support of veterans by connecting them with resources, service providers and advocates.
Veterans Moving Forward will be held in the Student Union Apollo Room on Wednesday, May 23, from 3 to 7 p.m. The event is sponsored by the Greater Miami Valley myVeteran Community Engagement Board.
Veterans Moving Forward is a combination of a resource fair and a job fair, hosting organizations like the Air Force Wounded Warrior Program, Disabled American Veterans and the Military Veterans Resource Center to educate and engage veterans with programs they can be apart of. The event will also include groups like Ohio Means Jobs and employers like Peerless Technologies and Reynolds and Reynolds that are looking to hire veterans.
The event is not only for veterans, but also their family members as well as veterans service organizations in the region. About 100 veterans service organizations are expected to participate to connect and networks with veterans. The Dayton VA Medical Center mobile clinic will be at the event, and hearing aid checks will be available to those who need it.
Wright State also hosted the Veterans Moving Forward event in 2017, attracting 75 veteran services organizations and 220 veterans.
"There were some great connections made on that day," said Cassie Barlow, chief operating officer of Southwestern Ohio Council for Higher Education (SOCHE) and former commander of Wright-Patterson Air Force Base.
Dayton RTA and Greene CATS will provide free transportation to Wright State for Veterans Moving Forward to anyone who shows identification, a DD 124 or a token from the VA Medical Center.
Wright State serves about 700 veteran and military-connected students — service members, Guard and Reserve members and military dependents. The university offers a range of services to help these students have a smooth transition to campus.
In 2016, Wright State established a special $100,000 scholarship fund to help members of the Ohio National Guard attend graduate school in what was believed to be the first program of its kind in Ohio. The university's Veteran and Military Center is designed to provide a welcoming space on campus for veteran and military students.
The U.S. Department of Veterans Affairs selected the Miami Valley as one of 50 communities across the nation to receive a myVeteran Community Engagement Board. Barlow and retired Air Force Lt. Col. John McCance organized the regional board in 2015.