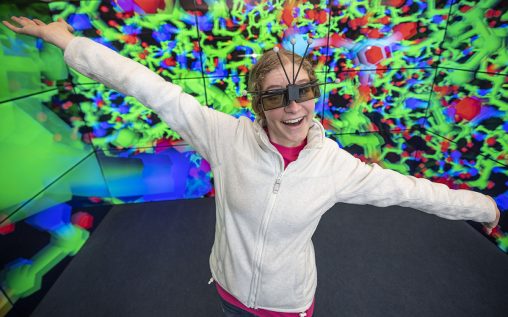 High school students interested in science, engineering, computer science, mathematics or other related careers can get hands-on experience at Wright State University on Saturday, Nov. 23, from 9 a.m. to 12:30 p.m.
The STEM Experience, sponsored by the College of Engineering and Computer Science and the College of Science and Mathematics, is the perfect opportunity for high school students and their families to learn about STEM-related majors while experiencing Wright State's laboratories.
Students can customize their adventure based on the area of interest they choose when they register. They can take a look inside one of the first semester courses and tour campus facilities, including the impressive Neuroscience Engineering Collaboration Building.
Participants can talk with faculty members about their college or career plans. In addition, current Wright State students will be on hand to discuss student life and student organizations.
Attendees may also:
participate in augmented reality, artificial intelligence and sensory technology demonstrations.
use the additive manufacturing system — and make something to take home.
explore genes through fluorescent proteins.
understand how the nervous system impacts reaction times.
observe robots, drones and vehicles in action.
High school students are encouraged to register for the STEM Experience by Nov. 21. Attendees should meet at the front entrance of the Student Union near the main entrance of Wright State.
For more information, visit wright.edu/stemExperience or email the College of Science and Mathematics at cosm@wright.edu.