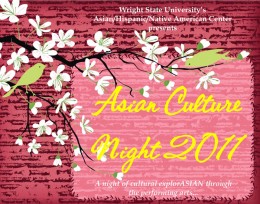 April is Asian Heritage Month—celebrate it!
Looking for a way to have fun despite the rainy April weather? The Wright State Asian/Hispanic/Native American Center (AHNA) has a roster of activities planned to celebrate Asian Heritage month, including film screenings and a Japanese tea ceremony.
Events will take place through April and are both educational and fun.
Mon., April 4–Fri., April 22
Art Exhibition
Student Union Art Gallery
Asian Heritage Month is a great time to showcase the print exchange that takes place between Dayton Printmakers Cooperative and the Gen Studio Group in Kyoto, Japan. The exchange began in 2002 out of a desire to create a joint American/Japanese print show. A reception will take place on Sat., April 9, in the Pathfinder Lounge from 3:30 to 4:30 p.m.
Tues., April 12
Film Screening
Noon, Multicultural Lounge
AHNA will screen the documentary Patsy Mink: Ahead of the Majority. Patsy Mink, who began her life working on a Maui sugar plantation, was the first Asian-American woman elected to the United States Congress.
Fri., April 15
Film Screening
5:00 p.m., Multicultural Lounge
The Asian Student Association will screen a Russell Peters' comedy video. Russell Peters is a Southeast Asian comedian who riffs on topics near and dear to South and Southeast Asian communities. Peters' shows sell out worldwide, despite the fact that the issues at the heart of his comedy are often underrepresented in traditional media.
Sat., April 23
Asian Culture Night
7:00 p.m., Apollo Room
Come out for Asian Culture Night—a night of cultural explorASIAN through performing arts. This year, the theme is Japan. Japanese artist Shizumi Shigeta Manale will demonstrate many traditional Japanese theatre styles, as well as samurai swordsmanship, geisha dances, haiku and waka/tanka poetry and the art of kimono wearing. There will also be traditional songs, folk dances and a fashion show.
Thurs., April 28
Japanese Tea Ceremony
Noon, Multicultural Lounge
A grand tea mistress will present the Japanese tea ceremony, called chanoyu, the Way of Tea. This artistic ritual, a ceremonial preparation and presentation of matcha, powdered green tea, draws on the stately meditative practice of Zen Buddhism.