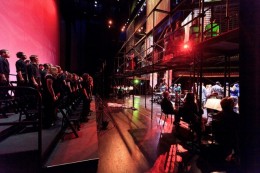 Listeners across the Miami Valley heard the Bernstein's MASS performance broadcast/live web stream on dpr.org and WDPR 88.1 FM in Dayton and 89.9 FM in Greenville Saturday, September 24, at 10 a.m.

Last spring, audiences got a once-in-a lifetime chance to see the most complex and controversial work of composer Leonard Bernstein in a production that boasted nearly 200 of Dayton's most talented performers, including more than 100 Wright State students and faculty.
Bernstein's MASS: A Theatre Piece for Singers, Players, and Dancers fused the talents of the Dayton Philharmonic Orchestra (DPO) and the Wright State University's departments of Music and Theatre, Dance, and Motion Pictures.
"This was really a major event for the Dayton region," said DPO Music Director Neal Gittleman, who pointed out that patrons from at least 10 states came to the Benjamin and Marian Schuster Performing Arts Center for the performances.
The piece uses the structure of a Catholic Mass to tell the story of a personal spiritual journey. Though portions of the show are sung in Latin, English lyrics by Broadway composer Stephen Schwartz (Wicked, Pippin, Godspell) provide much of MASS's humor and irony. It was first commissioned by former First Lady Jacqueline Kennedy for the opening of the national arts center named in honor of her late husband, the John F. Kennedy Center for the Performing Arts in Washington, D.C. The work premiered as part of the Kennedy Center's opening festivities on September 8, 1971.
MASS is rarely performed in its entirety due to its massive scope. The Schuster show featured a chorus of 60 singers, 19 actors in a "street chorus," 10 dancers and a 19-member children's choir. Musicians included a 90-piece orchestra, a five-piece rock band and a three-piece blues band.
"It was a huge challenge logistically to put it all together," said W. Stuart McDowell, chair and artistic director of Wright State's Department of Theatre, Dance, and Motion Pictures.
Pulling off a production of such epic proportions required a creative team from several disciplines. DPO's Gittleman conducted both sold-out performances. Wright State's faculty involvement included choral direction by Hank Dahlman of the Department of Music, as well as stage direction by Greg Hellems, choreography by Gina Gardner-Walther and scenic designs by Pam Knauert, all of the Department of Theatre, Dance, and Motion Pictures.
The production also included the Kettering Children's Choir under the direction of Natalie DeHorn and noted tenor John Wesley Wright in the crucial role of "The Celebrant."
"Even though MASS was written in the '70s, there's not anything in the show that isn't relevant today," said Hellems. For example, he pointed to a lyric about "oiling the seas," recalling how eerie it is in the wake of the 2010 Gulf oil spill.
While MASS gave Wright State students an excellent chance to perform with a professional arts organization, it also gave them a rare opportunity to work with their fellow students.
"The music and theatre departments are both so busy that we don't get the chance to work with each other very often," said Dahlman. "This is probably the largest collaborative effort between the two departments, at least in my memory, and I've been here 20 years."
"When different facets of the arts come together, it makes for a truly unforgettable experience," said Samantha Helmstetter, a musical theatre major who performed in the show's street chorus. "MASS was unlike any other performing experience I've ever had, and I'm grateful to have been part of it."