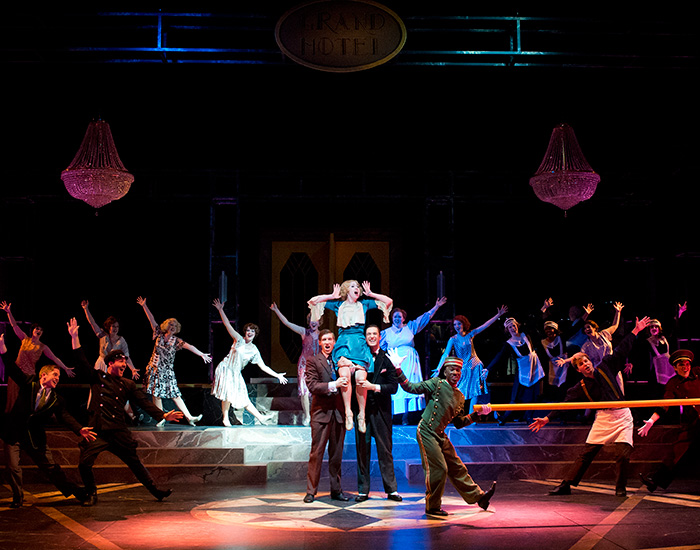 The fun, fast-paced Grand Hotel: The Musical marks the conclusion of the successful 2012–13 theatre season of Wright State University's Department of Theatre, Dance and Motion Pictures. 
Performances run March 14 to 31 in the Festival Playhouse in the Creative Arts Center on Wright State University's Dayton campus.
"Wright State is pulling out the stops to mount this multiple Tony Award–winning musical," said W. Stuart McDowell, department chair. "Audiences are going to have the thrill of their lives as we end this season with one of the truly great American musicals of the modern era."
Based on Vicki Baum's 1929 novel and play Menschen im Hotel ("People in a Hotel") and the 1932 Academy Award–winning film, the musical is set in the Grand Hotel Berlin in Germany before the crash of the New York Stock Exchange. It focuses on events taking place over one weekend and the intersecting stories of the hotel's eccentric guests. They include a fading prima ballerina; a fatally ill Jewish bookkeeper who wants to spend his final days living in luxury; a young, handsome, but destitute baron; a cynical doctor; and a typist dreaming of Hollywood success.
The musical debuted on Broadway in 1989, earning 12 Tony Award nominations and winning five. It was the first American musical since Big River to surpass 1,000 performances on Broadway.
"This fabulous musical is filled with non-stop music, great singing and dance, which is why it set records on Broadway," McDowell said.
Grand Hotel: The Musical is directed by Marya Spring Cordes, assistant professor of theatre, who previously staged in 2011 Wright State Theatre's Dead Man's Cellphone and Picnic.
The production features Justin King as Doctor Otternschlag, Taryn Lemmons as Elizaveta Grushinskaya, Mathys Herbert as Otto Kringelein, Riley Able as Baron Felix Von Gaigern, Andrew Quiett as Hermann Preysing and Sierra Stacy as Flaemmchen.
Ticket Information
Tickets are $20 for adults and $18 students and seniors and can be purchased by calling the Theatre Box Office at (937) 775-2500. Performance times are available on the Department of Theatre, Dance and Motion Pictures website.