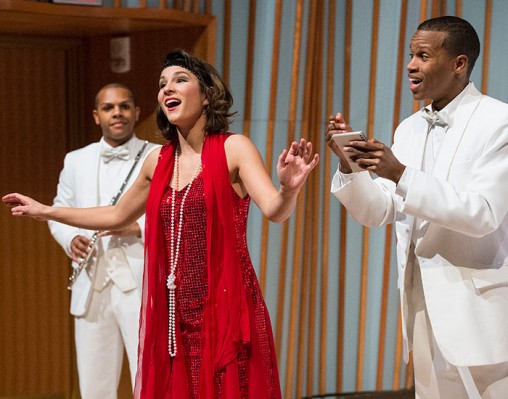 Students in Wright State University's Opera Theatre program will poke fun of themselves and the art form they love during this weekend's opera Too Many Sopranos.
"It's an opportunity to spoof ourselves," said Kimberly Warrick, D.A., associate professor and director of opera theatre at Wright State. "We make fun of every stereotype we can think of," including diva sopranos, famous operatic characters and opera itself. "It's even a little irreverent," Warrick added.
Too Many Sopranos will be performed at 8 p.m. on Friday and Saturday, March 15 and 16, and 3 p.m. on Sunday, March 17, in Schuster Hall in the Creative Arts Center on the Wright State campus.
In the comic opera, four sopranos go to heaven to audition for the heavenly choir, only to be told by St. Peter that there's only room for one soprano. After learning that all of the divas could join the choir if more tenors and basses were available, the sopranos attempt to retrieve four male singers from hell, where they were banished.
Too Many Sopranos, by Edwin Penhorwood, an American composer and faculty member at Indiana University, premiered in 2000.
Warrick, who is the director and conductor of the Wright State production, describes Too Many Sopranos as a "great introduction to opera." "It's very accessible to singing and is very audience friendly," she said.
Though the performance includes some jokes that will be more familiar to aficionados, Warrick said the gags aren't too obscure for those new to opera. "It's not so inside (opera) that somebody who hasn't seen an opera won't enjoy it," she said.
"Opera gets a reputation for being full of ourselves and elite," Warrick said. "(Too Many Sopranos) humanizes it."
This weekend's three performances are the culmination of a semester and a half of work. Since many of the students in the opera hope to be professional singers, Warrick said, this year's opera is a great tool to teach them what it takes to mount a production.
Ticket Information
Ticket are $10 for Wright State faculty and staff, all students and seniors; and $12 for adults.
For tickets, contact the Theatre Box Office at (937) 775-2500 or visit the box office in the Commons of the Creative Arts Center.