The senior curator of aeronautics for the Smithsonian Institution's National Air and Space Museum will highlight a symposium at Wright State University titled Wright in Your Own Backyard: Exploring and Presenting Controversy in Public History.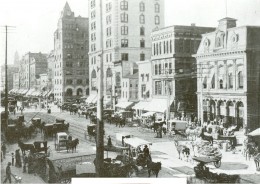 Tom Crouch will be keynote speaker at the Public History Graduate Symposium, to be held Friday, March 22.
Crouch has titled his talk Public History and the Culture Wars: Some Thoughts from a Veteran. It will include reflections on his close personal involvement with controversial exhibitions such as A More Perfect Union: Japanese Americans and the U.S. Constitution and Legend, Memory and the Great War in the Air.
Crouch has written or edited 12 books, and is a respected expert on the history of aviation and flight technology, specifically on the lives and careers of Wilbur and Orville Wright, inventors of the first powered aircraft.
The daylong symposium also features sessions that include The Enola Gay Controversy, Dillinger's Dayton Love and The Black Hills and the Fort Laramie Treaty Controversy: Mount Rushmore and the Ownership of the Black Hills.
The symposium, to be held in the Endeavour Room of the Student Union, begins with registration at 8:15 a.m. and runs through 4:30 p.m. It is free and open to the public, but those who plan to attend are asked to RSVP by March 18 to Sam Mikell at mikell.2@wright.edu or the Wright State University Archives at (937) 775-2092.