The Wright State men's basketball team will enter the post-season for the third time as a Division I school as the Raiders will host Tulsa on March 20 at the Wright State Nutter Center as part of the College Basketball Invitational presented by Buick. Tipoff is 7 p.m.
Wright State, with a 21-12 record, advanced to the championship game of the Horizon League, losing to regular-season champion Valparaiso on March 12. After being picked to finish last in preseason polls, the Raiders entered the tournament as the #3 seed and defeated Youngstown State and defending champion Detroit in quarterfinal and semifinal action.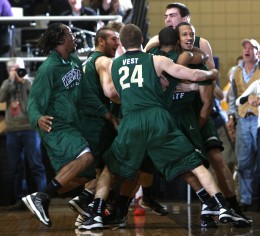 "With the success of the recent men's basketball season and the Horizon League Tournament run, we feel this team deserves to play more basketball, which will help us with our short-term and long-term goals for the program," Athletics Director Bob Grant said.  "We have a fairly young roster that will benefit from additional practice and games and will use this experience as a springboard for the future, much like our women's program has done in previous seasons. We hope to benefit from additional exposure and experience much like past CBI teams such as Pitt, VCU and Oregon have done."
Tulsa has a record of 17-15, 8-8 in Conference USA. Wright State and Tulsa have met once before, with the Raiders taking a 72-66 overtime decision in the first round of the Preseason NIT at Tulsa in 2004.
"The opportunity to keep playing and improving is very important for our team," Wright State coach Billy Donlon said. "We are all excited to have another opportunity to compete and get better."
Wright State advanced to the 1993 and 2007 NCAA Tournament. This will be the first post-season men's basketball tournament game held at the Nutter Center.
Past champions of the CBI include 2012 Pittsburgh, 2011 Oregon, 2010 VCU, 2009 Oregon State and 2008 Tulsa. The CBI is a single-elimination tournament up until the Championship Series, with all games played at campus sites. The Championship Series is a best-of-three series. The event features eight first-round games, four quarterfinal round games, a semifinal round, and then the Championship Series.
Season ticket holders can go to https://wsugroups.com/raiderscbi/ to order tickets. Others can order at the Nutter Center Ticket Office and Ticketmaster locations. Parking will be open. Also, the Raider lounge in the open horse shoe will be open to the public. For questions, please contact Andrew Durbin at 937-775-4938 or andrew.durbin@wright.edu.