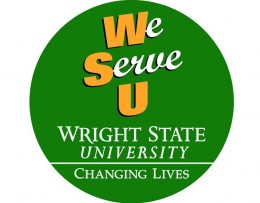 It's no secret that in the professional world, you have to dress to impress. We Serve U, a staff and faculty community service group, is teaming up with Career Services and Clothes That Work to show students exactly how to do that.
Through March 27, We Serve U is holding a donation drive, asking students, staff and faculty to contribute old or unused professional clothing.
The donated business attire and prom dresses will go to benefit Clothes That Work, a nonprofit organization that provides professional clothing, image counseling and training to job seekers in the Dayton region. Clothes That Work partners with other local organizations that refer clients in need of interview clothing to aid in the transition to self-sufficiency. In addition to clothes, Clothes That Work provides its clients with interview tips and coaching on how to exhibit appropriate professional behavior.
Those with old suits, dresses, ties, slacks, or other components of a professional outfit are strongly encouraged to donate. Clothes can be dropped off in the donation bins located in the Barnes and Noble Bookstore (182 Student Union), the Charles and Renate Fryman Educational Resource Center (116 Allyn Hall) and in University College (180 University Hall).
"If you're not using your old business clothes, why not donate them for the benefit of someone else?" said Joanie Hendricks, chair of We Serve U. "All you have to do is bring an outfit in and put it in one of the donation bins—easy as that."
In addition to business attire and prom dresses, We Serve U is asking faculty and staff to donate $30.
Following the donation drive, We Serve U will host a career fashion show on Wednesday, March 27, at noon in the Student Union Atrium. Student models from the Gamma Sigma sorority and Engineers Without Borders will walk the runway to showcase interview, business casual and casual Friday attire.
"We Serve U is trying to show students who are about to go into the workforce what appropriate professional attire looks like," said Hendricks.
Additionally, We Serve U will raffle prepaid vouchers, as paid for by faculty and staff donations, that can be redeemed at Clothes That Work, located at the Job Center in Dayton.
To learn more about the donation drive and fashion show, contact Joanie Hendricks at (937) 775-5416 or Becky Traxler at (937) 775-7032.