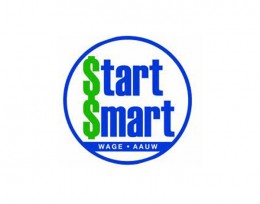 Most young women graduating from Wright State University hope that their college degree will earn them a good salary.
Unfortunately, research shows that a woman makes 77 cents for every dollar a man with the same qualifications makes, doing exactly the same job.
A group of passionate women at Wright State has been working to close that wage gap by teaching salary negotiation using the WAGE Project's $tart $mart curriculum.
The next $tart $mart Salary Negotiation for Women workshop will be held Tuesday, April 9, from 4 to 6 p.m. in the Student Union Apollo Room. It is no coincidence that the event is being held on Equal Pay Day  http://www.pay-equity.org/day.html
The years of collective effort from the Wright State Women's Center and the Office of Career Services were recently recognized by NerdScholar, a national website that named Wright State among its five favorite schools in training women to learn the art of salary negotiation. NerdScholar is part of NerdWallet.com, which provides financial advice. http://www.nerdwallet.com/blog/nerdscholar/2013/colleges-women-salary-negotiation-skills/
The WAGE Project, an acronym for Women Are Getting Even, provides the research and the PowerPoint presentations, but Wright State's facilitators bring the enthusiasm to the workshop.
"A lot of us would like to win the lottery," says Amber Vlasnik, director of the Women's Center and one of Wright State's $tart $mart facilitators. "This is a way you can win the lottery, and it's actually something you can control."
Vlasnik works with Cheryl Stuart, director of Career Services, during the workshop to teach young women about the wage gap and how to bargain for a better salary.
Vlasnik often starts out repeating a startling statistic—female college graduates will earn $1.2 million less over their careers than men with the same degree.
"I don't know about each of you," said Vlasnik, "but if I sit there and think about it, I can certainly say I want my million dollars."
Vlasnik said that while a small difference between a man's starting salary and a woman's may not seem critical, it is the basis for all future bonuses and pay raises, and the differences add up.
Stuart urges students to visit the Office of Career Services, where they can meet with staff to advise them on developing resumes, cover letters and salary negotiation tactics.
One of Stuart's main points is that applicants for a job should always do their homework. They need to make a budget of their expenses and research the average salary for the position they have been offered, so that come time for negotiation they will know how much money they need and how much they can reasonably expect to get.
Stuart also encourages students to play up their strong points in interviews and negotiations.
"To be able to negotiate your salary, you have to be able to sell yourself," she said. "Selling ourselves is difficult. It's putting a pat on your own back, but it's really important."
At the end of the workshop, students get a chance to practice self-marketing in a role-playing scenario in which they had to convince their peers, posing as employers, to give them a higher salary.
Workshop participants fill out entry and exit surveys quizzing them on their confidence about salary negotiations. Stephanie Spencer, a career counselor and assistant director of Career Services, and the coordinator of $tart $mart programs at Wright State, says that from the data collected from these surveys, $tart $mart does participants a world of good in just two hours.
Usually, Spencer says, "at least one person in every workshop will say 'I didn't even know I was allowed to negotiate.' A lot of women don't even know it's an option."
Visit http://www.wright.edu/events/start-smart-interactive-workshop-women-negotiating-fair-realistic-compensation to learn more about Tuesday's $tart $mart workshop.