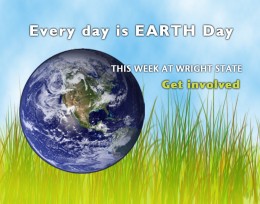 Earth Day 2013 may be Monday, April 22, but there are many ways students, faculty and staff can celebrate Mother Nature and sustainability at Wright State University all month long.
"There's really a bunch of stuff going on and it's both heartening and encouraging," said Linda Ramey, Ph.D., associate director of sustainability.
Ramey says interest in Earth Day, and the environmentally friendly lifestyle choices that come with it, have been building momentum on campus.
"Five years ago, there were a couple of things but I don't think there was as much emphasis in the getting the word out," said Ramey.
Many of this year's activities will involve physically getting out of the classroom or office and interacting with nature on campus.
"The goal for Earth Day is to connect people with the importance of caring responsibly for the space on earth that we lease while we are here.  We want to see 'Earth Day, Every Day!' translate into sustainable life choices by everyone, each day," said Ramey.
April activities include: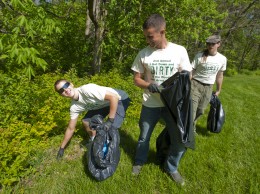 The Third Annual Army ROTC Campus Clean-up Event
Wednesday, April 10
2:30–4:30 p.m., meet at the rock
Free T-shirts and food for registered participants
Groups are encouraged to participate
Contact LTC Wolford to register at: phillip.wolford@wright.edu (937) 775-2586.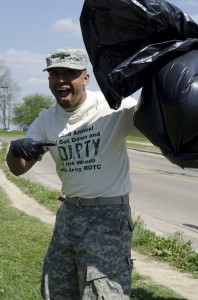 The Spring 2013 Adopt-A-Highway event
Saturday, April 13
9:00 a.m. start
Registration is required
Contact Hunt Brown  at huntting.brown@wright.edu for more information.
Wright State Day of Service at Beaver Creek Wetlands
Saturday, April 13
9:00 a.m–3 p.m.
Phillips Park, 1981 Dayton Xenia Road Beavercreek, OH 45385
Plan to get muddy while planting wetland plants. Change of clothes recommended. Water, lunch (provided for those working full day shift) and rags will be provided on site.
"An Evening with Van Jones"
Tuesday, April 16
Public Reception, 5:30 p.m., 156 Student Union
Lecture, 7:00 p.m., Student Union Apollo Room
Van Jones, clean-energy leader and founder of Green For All, a national organization promoting green-economy jobs is the next Presidential Lecture Series speaker at Wright State
This event is free and open to the public.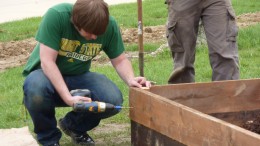 Raise the Beds Volunteer Construction Day at the Wright State Campus Community Garden
Saturday, April 20
9:00 a.m.–3:00 p.m.
Contact Linda Ramey at linda.ramey@wright.edu for more information.
Wright State University Lake Campus Alumni Network Day of Service
Saturday, April 20
9:00 a.m.–noon
Wright State Lake Campus Business Enterprise Center
Join Wright State University alumni, students, faculty, staff and friends at "The Annual Lake Cleanup Day" and give back to the Celina and St. Mary's communities through this day of service project with Grand Lake St. Mary's.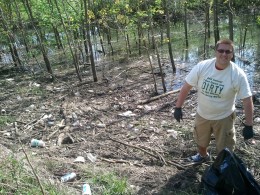 Wright State Woods trail maintenance
Spread wood chips, place trail markers, help us give the Woods a facelift for spring.
Dates/times are flexible, groups are encouraged
Contact Lindsey at  millsaps.14@wright.edu to volunteer.