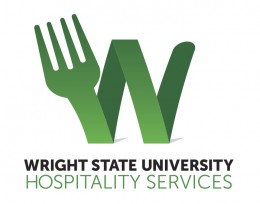 Students arriving at Wright State University for fall semester should bring their appetites. They are in for an eclectic new dining experience that will satisfy cravings for everything from salads and wraps to Mexican and Chinese to pizza and sushi.
Wright State signed a contract with Chartwells that will transform the university's dining services into a comprehensive hospitality program.
"We're proud to say that with Chartwells we're launching something that's going to deliver outstanding service, quality and value to our university community while doubling our operational revenue," said Mark M. Polatajko, vice president for business and fiscal affairs and university treasurer. "The unveiling of this strategic partnership is a huge success story for us in terms of leveraging an opportunity to the benefit of our students and our community. We're really excited about it."
Chartwells, a division of the Charlotte, N.C.-based Compass USA Group, provides food services to several hundred colleges and universities, including Auburn, Louisiana State University, the University of Miami and Texas A&M.
At Wright State, Chartwells plans to update dining venues, expand variety, add numerous healthy options, provide speedy service and introduce innovative technologies to deliver the utmost value to its clients.
New dining options will be introduced beginning fall 2013, with some venues opening when classes begin and others later in the semester and into 2014. Well-known restaurant/shops will include Jamba Juice, Seattle's Best Coffee, Denny's All-Nighter, Pizza Hut Express, Au Bon Pain Soup, Caribou Coffee and Starbucks. In addition, dining venues will emphasize freshly prepared food concepts such as wraps, Italian dishes, hand-breaded chicken, frozen yogurt, Mexican fare, sub sandwiches and sushi. Innovation Kitchen Ohio will offer interactive cooking with local ingredients.
"It's a complete brand refresh in all of our campus locations," said Polatajko. "We are excited about the first and lasting impression this will make with our students when they come back for the fall semester."
New meal plans will enable students to exchange as many meal swipes on their cards as they wish at any dining location.
At the Wright State Nutter Center, new concepts including a pizza location will join the existing Fricker's and Speedway brands.
The new Student Commons Building, expected to open in 2015, will feature signature platforms such as myPantry, Eat Learn Live, The Kitchen, Outtakes, Fresh Market and Baker's Crust.
"The Commons will combine community gathering space with specialized dining in a dynamic new facility that will be very attractive to students and their families," said Dan Abrahamowicz, vice president for student affairs.
In addition, Chartwells will install new digital signage and food displays as well as create a new website (www.dineoncampus.com/wright), social media sites and a smartphone app. It will also operate iPad nutrition kiosks, an e-commerce convenience store and a gift baskets program.
Polatajko said that with the expiration of the various food service contracts Wright State had in place through June 30, 2013, the strategy was to present the full contract opportunity to the supplier community in an innovative and comprehensive selection process with a focus on transforming into a best-in-class operation.
"We are continually challenged by our board to be entrepreneurial and drive value, service and performance in everything that we do," said Polatajko. "This really exemplifies the spirit of entrepreneurism."
The contract guarantees Wright State an operational return of more than $20 million over 10 years. In addition, Chartwells will provide over $5.6 million in funding to support scholarships, capital improvements and campus initiatives.