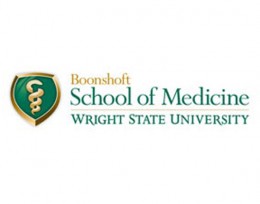 During their first and second years of medical school, members of the Wright State University Boonshoft School of Medicine class of 2012 raced from their classes to volunteer in the evenings at Reach Out of Montgomery County.
They helped with triage, took medical histories on patients and observed the doctors with patients. Many of them continued to volunteer during their third and fourth years.
But they noticed that Reach Out, a nonprofit organization, which provides health care services, and prescription assistance to the underserved and medically uninsured population of Dayton, did not have an adequately equipped kitchen for the volunteer physicians, nurses and other health care professionals.
Often, the volunteers arrived hungry and wanted to prepare a quick snack before they began seeing patients in the evening after working a full day seeing their own patients. The clinic, which is funded by local donations and contributions, is open from 5 to 9 p.m. on Mondays for pediatric patients and Wednesdays and Thursdays for adults.
The small sink was not ideal for food preparation. There was no dishwasher or stove. Counter space was limited. Furthermore, the microwave and small fridge were aging.
So the class of 2012 donated more than $5,000 to remodel the Reach Out kitchen. "It was overwhelming to receive such a great amount," said Sharon J. Sherlock, R.N., B.S.N., M.S.A., D.H.A., executive director of Reach Out and assistant professor in the Wright State University Boonshoft School of Medicine Department of Community Health. "We wanted to have snacks and drinks ready for our volunteers. They are skipping dinner to help our patients."
The remodeled kitchen includes more counter space, a full-size sink, a dishwasher, a full-size stove and oven, a new fridge and a new microwave. "The students knew how bare bones the kitchen was," said Janie Newell, R.N., a clinical supervisor at Reach Out. "It was a very well thought-out gift."
The remodeled kitchen also is a much more welcoming space. It's a place where volunteers can gather. The volunteer physicians have an opportunity to talk to the medical students about the patients they treat.
"The medical students are like sponges, which makes the volunteer physicians want to continue in their work at Reach Out," Sherlock said. "The physicians like the teaching aspect."
Some of the funds given by the class of 2012 also paid for half of a new EKG machine. The Levin Family Foundation paid for the other half. The clinic's EKG machine had broken. Reach Out had to borrow one from Miami Valley Hospital.
"An EKG machine is vital in any urgent care setting," Newell said. "People come in with chest pains."
Sherlock explained that Reach Out sees the patients who don't have anywhere else to go for medical help. By volunteering at Reach Out, the students become aware of the barriers and disparities the underserved and uninsured face.
"The medical students are so surprised by the face of the uninsured," Sherlock said. "The uninsured are young like the students but are at a time in their life where they have no insurance or money."
In addition, Reach Out helps patients who fall through the cracks, such as a severely handicapped 19-year-old who no longer qualifies for his insurance, a 36-year-old man who had a defibrillator implanted in his chest but has no family physician to go to for his follow-up appointment and immigrants from Russia, Turkey, Nigeria and Asia.
"Even though they call us the safety net, we are the bottom," Sherlock said. "We're teaching the medical students how to deal with vulnerable populations, disparities of health, diverse populations and different cultures."