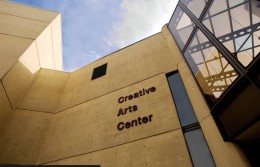 The Creative Arts Center, home of the Departments of Theatre, Dance, and Motion Pictures, Music, and Art and Art History, is scheduled to undergo renovations and expansion beginning next spring.
The College of Liberal Arts hopes to break ground after the April 12, 2014, ArtsGala. Construction, which is scheduled to be implemented in phases, is expected to be completed by the 2016–17 academic year.
Improvements include: new university art galleries, stage combat studio, and dance and music studio space and classrooms. The existing art galleries space will be transformed into art studio classrooms. The Motion Pictures Program will renovate the television studio into a new production studio.
Linda Caron, associate dean for faculty and external affairs in COLA, said the college plans to improve the quality of studio and classroom space for its talented arts students.
The project will also include the construction of an iconic, accessible entrance to the CAC.
The entrance will symbolize the "excellence of our arts programs and the fact that for many people, the arts are the front door of the university," Caron said.
The university will work with H3 Hardy Collaboration Architecture and Champlin Architecture. H3 also was the lead designer on the successful Schuster Hall renovation project. Wright State has worked with Champlin Architecture on renovations in Boonshoft School of Medicine's White Hall.