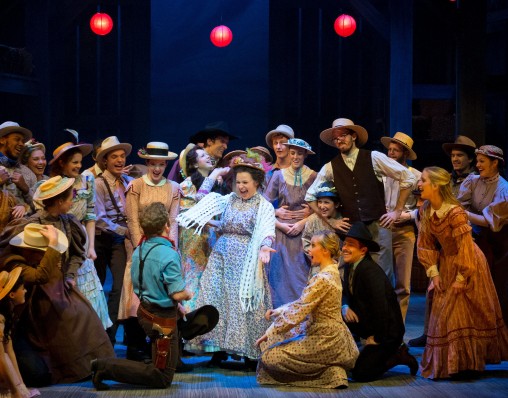 Wright State University Theatre continues its 39th season in the Festival Playhouse with the award-winning musical Oklahoma! Oct. 24–Nov. 10. This season will also include performances of The Magic Fire, Les Misérables, as well as the The Wild Party and The Cherry Orchard, to be performed in the Herbst Theatre.
Rodgers and Hammerstein's hit musical Oklahoma! opened on Broadway in 1943. A box office smash, it has been revived eight times on both Broadway and the West End. Following one of the Broadway showings, a New York Times review glowed, "after a verse like that, sung to a buoyant melody, the banalities of the old musical stage became intolerable."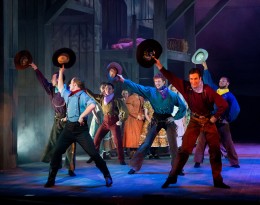 Oklahoma! opens with Aunt Eller sitting on her front porch when Curly, a local farmhand, appears. Curly meets Laurey, Eller's niece, and is immediately drawn to her. Curly, in an attempt to woo Laurey, invites her to a box social. Laurey immediately questions Curly's ability to be classy enough for her, so her hired hand Jud Fry steps in and announces that she will be going to the social with both him and Curly. The rival farmhands vie for her affection as she struggles to make up her mind.
Oklahoma! is directed by Greg Hellems (Death of a Salesman, Funny Girl), choreographed by Teressa Wylie McWilliams (Funny Girl, Hairspray), and musical directed by Scot Woolley (Grand Hotel, Funny Girl). The set is designed by Pam Knauert Lavarnway (Grand Hotel, Funny Girl), with lighting by Matthew P. Benjamin (Grand Hotel, Funny Girl), costumes by guest designer Lisa Loen, properties by John Lavarnway, and sound by James Dunlap (Grand Hotel, Funny Girl).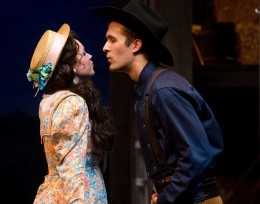 On the stage, this production features Jon Hacker as Curly, Kate Meuller as Laurey, Caroline Gruber (Aunt Eller), Andrew Quiett (Jud Fry), Cooper Taggard (Will Parker), Kaitlyn Sage (Ado Annie), Sean Jones (Ali Hakim), Logan Torbet (Ike Skidmore), Bailey Rose (Gertie Cummings), Drew Bowen (Cord Elam), and Ian Benjamin (Andrew Carnes). Dream ballet dancers include: Hannah Aicholtz, Kyle Adams, Jordan Adams, Keaton Eckhoff, King Jones, Owen Kresse, Cody Lewis, Nicholas Mcquillin, Kody Mullins, Kelsey Andrea, Erin Bridwell, Alex Caldwell, Lindsey Knoth, Taryn Lemmons, Katie Longshore, Chloe Mann, Mally Reber, Cayla Roberts, Rebecca Rudy, Scotti Stoneburner, Amy Wheeler, Bailey Olean and Rebekah Espich.
Performances are Oct. 24, 30, 31 and Nov. 7 at 7 p.m., Oct. 25, 26, Nov. 1, 2, 8, 9 at 8 p.m., and Oct. 27, Nov. 2, 3, 6, and 10 at 2 p.m. Tickets are $22 for adults and $20 for students and seniors. Contact the Box Office for tickets and theatre information at (937) 775-2500.