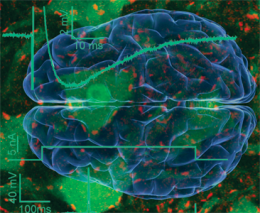 The Wright State University and Premier Health Neuroscience Institute will present its second annual neuroscience symposium, "Selected Topics in Translational Neuroscience," on Tuesday, Nov. 5, from 1:15 to 5:15 p.m., in the Sinclair Conference Center at Sinclair Community College. Sign-in and a luncheon will begin at 11:45 a.m.
The presentations will explore current research on myasthenia gravis, ways to improve the neurologic health of preterm infants, stress resilience and stroke.
The keynote speaker is Gil Wolfe, M.D., professor and chair, Department of Neurology, University of Buffalo School of Medicine and Biomedical Science.
Guest speakers include: Rosalie Mainous, Ph.D., dean and professor of nursing, Wright State University-Miami Valley College of Nursing and Health; Ryan Jankord, Ph.D., research physiologist, Air Force Research Laboratory Human Effectiveness Directorate, Wright-Patterson Air Force Base; and John Terry, M.D., neurointerventionalist, the Clinical Neuroscience Institute-Premier Health Specialists, and clinical associate professor of neurology, Wright State University Boonshoft School of Medicine.
The symposium will conclude with a panel discussion exploring translational research in neurovascular disorders, currently underway at the institute.
Information about continuing medical education credits for this activity is available atmed.wright.edu/ni/symposium.
Launched in 2010, the Wright State University and Premier Health Neuroscience Institute represents a groundbreaking collaboration that leverages some of the Dayton region's greatest strengths to address many of its most crucial needs. Designated as a University System of Ohio Center of Excellence, this public-private partnership unites the region's most advanced biomedical research institution with the clinical resources of its leading hospital system.
The institute's nationally and internationally recognized scientists and clinicians strive to make new discoveries, which will expand our understanding of:
Stroke
Epilepsy
Memory disorders
Movement disorders occurring in Parkinson's disease, multiple sclerosis and amyotrophic lateral sclerosis, among others and
Neuropathies that arise from complications of diabetes, chemotherapy or nerve injury
The event is free, but does require registration. To register or for more information, go to med.wright.edu/ni/symposium.