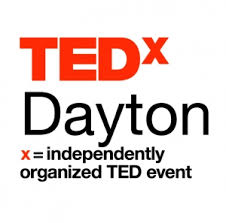 Diverse speakers and performances that touched on everything from translational leadership to the color of music were featured in the inaugural TEDxDayton, an event designed to spread ideas and inspiration.
More than 30 speakers and performers took the stage at the Victoria Theatre on Nov. 15 for Dayton's version of TED Talks, captivating an audience of more than 900—a third of whom were area college students.
Senior Wright State English major Abbie Funk said her favorite speaker was Jay Martinez, a spoken-word artist.
"His poetry was moving and could be easily connected with," Funk said. "I loved the whole event, though—TEDxDayton was a great way to network and meet new people. It was amazing to see how the event came together from all the hard work of local volunteers."
More than 200 people volunteered an estimated 10,000 hours to plan and execute TEDxDayton. Tickets sold out three weeks before the event.
Event co-chair Sean Creighton said TEDxDayton's theme of "infuse and inspire" was chosen because each speaker vigorously sought to infuse the audience with insightful knowledge and to inspire the audience to act on what was learned. The theme came from expanding upon the TED Talks mantra of promoting "ideas worth spreading."
"It's been so exciting to experience this community's overwhelming support for TEDxDayton," said Creighton. "Dayton is a community full of passionate, inspired and engaged people, of dreamers and doers in the world. The way this community has embraced TEDxDayton really illustrates this."
Among the speakers were Nathan Klingbeil, dean of the Wright State College of Engineering and Computer Science; neuroscientist Michael Weisend, a senior research scientist at the Wright State Research Institute; Shu Schiller, an associate professor at Wright State's Raj Soin College of Business; Judith Ezekiel, Wright State professor in residence of women's studies; and Todd Dewett, former Robert J. Kegerreis Distinguished Professor of Teaching at Wright State's Raj Soin College of Business.
Several Wright State alumna also spoke and performed—Sharon Rab, who obtained her master's degree in education at Wright State and is founder of the Dayton Literary Peace Prize; pianist Steffin Johnson, who obtained his bachelor's degree in music from Wright State; and professor and poet Jeneen Furaha Henry-Jones, who obtained her master's degree in English from Wright State.
"My talk's purpose was to show how peace is possible through literature," said Rab. "I've taught English for a number of years and I've seen how people can truly be changed by literature. So I hope my talk inspired people to read."