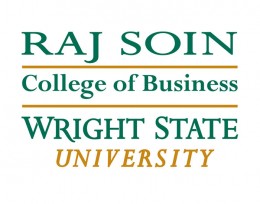 For the first time in the Dayton area, students are being invited to participate in a public professional pledge similar to those taken by CFA Charter holders, law students, medical students and others.
Wright State University students in the Raj Soin College of Business will stand up in front of faculty, staff and their peers this week to pledge their commitment to the college's student professional code. For many students the moment will serve as an impactful new beginning to their college careers.
At the same time, representatives from local businesses have also pledged their support for business education and students in the business college.
"Following their professor's and the faculty's leadership, our students are here to make a commitment to their profession," said Joanne Li, dean of the Raj Soin College of Business. "Taking this pledge in public is an indication that our students are ready to demonstrate their dedication to economic development by being an ethical leader and a life-time learner in their careers. I cannot be more pleased to serve such an outstanding student body."
"Taking the pledge is a reminder to the students of the impact that they have upon themselves, their colleagues and society," said David Gasper, keynote speaker and founder of InitialPoint.
Over 200 students including students from the Dean's Student Advisory Board, will take the pledge Dec. 4 at 3:30 p.m. in the Rike Hall common area adjacent to the Trading Room. Both undergraduate and graduate students will participate, as well as first-year students, transfer students and upper-class students.
The pledge, which mirrors terminology and ideology cited in the college's mission, vision and values statement, focuses on several ideals. Students will pledge to develop characteristics of ethical leaders, confirm their commitment to furthering their profession, and embrace the ideas of serving as a positive role model to others and reflecting positively on the college. Students will also pledge a commitment to lifelong learning in their profession.
"We want them to understand that they are expected to contribute to the development of their profession, which includes developing as a colleague," said Marlena Akhbari, Ph.D., chair and associate professor of finance. "Don't be just a taker in their profession. Be a contributor."
At the event, members of the Advisory Board will each read a line from the pledge and then describe what the passage means to them. Students who participate will also receive a keepsake that will help remind them of their pledge to the college.
"As students we need to take the pledge not only as students but as future business leaders. We need to remember that the values of the pledge will continue with us when we leave the walls of Wright State University," said Kelsey Buettner, president of the Dean's Student Advisory Board.
Business college leaders are considering making the pledge an annual event. They hope the pledge will reinforce connections with the university while students are in college and as alumni. They believe it will help deliver long-run benefits of visibility and greater contribution from an invaluable resource.
"One of the largest organisms that we have going for us in terms of visibility is our student body," said Akhbari. "If they are aware of their organizational impact, I think that adds to our visibility and Wright State's brand as a whole."
Students interested in signing up to take the pledge can contact Tammy Boatman in the Office of Finance and Financial Services at tammy.boatman@wright.edu. RSVPs are required for this event.