Excerpt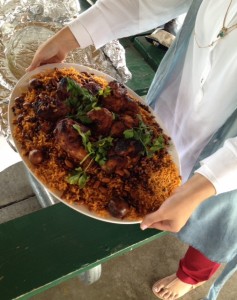 Thanks to Wright State University's LEAP program, students from throughout the world are sharing their cultures — and their cuisine — with others in the Miami Valley. LEAP stands for Learning English for Academic and Professional Purposes.
One of those students — Ramiah Alharbi — is our featured cook this week. Preparing her kabsa recipe for Our Good Cooks turned into a useful English lesson for Ramiah as well.
Wright State's Intensive English Program is part of the Department of English Language and Literatures in the College of Liberal Arts. The program's director, Jeannette Horwitz, says it offers non-native speakers the linguistic, academic and social skills they need to be successful in an American university.
Read more at DaytonDailyNews.com.