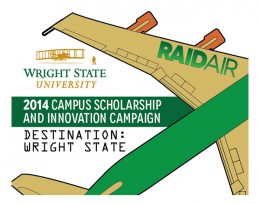 After another record-shattering year in 2013, Wright State University's annual Campus Scholarship and Innovation Campaign (CSIC) gets ready to launch once again with a "takeoff" event on Monday, March 10, from 2 to 4:30 p.m. in the Student Union Endeavour Room.
Tying into this year's theme, "Destination: Wright State," a variety of aviation-themed activities will take place, including pin the pilot on the airplane, a paper airplane toss and a suitcase relay race. The flight captain, Wright State President David R. Hopkins, will speak at 3 p.m.
"Whether traveling a couple miles or halfway across the world, nearly 18,000 students chose Wright State as their destination for receiving a higher education," says Jennifer Foster, director of annual giving. "We are incredibly grateful to the faculty and staff who continue to make Wright State a top destination for higher education. Their generous support of scholarships and programs helps us attract students worldwide."
Fifty-five percent of Wright State's full-time faculty and staff donated during the 2013 CSIC, achieving the highest participation rate in the university's history. Faculty, staff and retirees also set a new record for the amount of money raised by contributing $710,776.
Foster hopes to match, if not exceed, last year's numbers. "Of course, we'd love to see all of our faculty and staff contribute, but our goal is to reach 55 percent participation once again," Foster said. "All of our donors can rest assured that 100 percent of their gift goes to the fund of their choosing."
Foster is especially proud of the fact that 14 campus units met or exceeded last year's participation goal. Four units achieved 100 percent participation, including Multicultural Affairs and Community Engagement, the Graduate School, the Lake Campus and the Division of Advancement.
Foster says every gift during CSIC is an opportunity to make a difference in the life of a student.
"Over the years, I've had the opportunity to meet many of our students and hear their stories. Each student has a unique story," she said. "Through their gifts, our faculty and staff are helping our students succeed and make their dreams come true. Our students are so grateful for their help and support."
Wright State faculty and staff may contribute to the 2014 Campus Scholarship and Innovation Campaign at the March 10 takeoff event, by completing a boarding pass and returning it to their unit chair, or by visiting the campaign website.