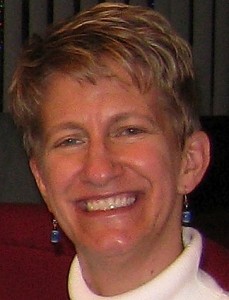 Wright State University professor Angela Beumer Johnson was named Outstanding College Language Arts Educator by the Ohio Council of Teachers of English Language Arts (OCTELA).
Beumer Johnson, Ph.D., professor of English and Teacher Education, codirects the graduate licensure program in secondary integrated language arts education. She enjoys teaching graduate and undergraduate courses in young adult literature and integrated language arts pedagogies.
She is coauthor of numerous peer-reviewed articles and is a frequent presenter at conferences organized by the Assembly on Literature for Adolescents of the National Council for Teachers of Education (NCTE) and OCTELA. Along with Wright State faculty members Nancy Mack and Sally Lamping, Beumer Johnson advises an NCTE-student affiliate on campus, WSU-NCTE.
Beumer Johnson was honored at the Ohio Council of Teachers of English Language Arts spring conference in Worthington, Ohio.
Founded in 1957, OCTELA is comprised of teachers of English and anyone interested in practicing and promoting English language arts. It is the only statewide affiliate of the National Council of Teachers of English representing teachers of English language arts from prekindergarten through college.
Carol S. Loranger, chair of the Department of English Language and Literatures, said Beumer Johnson's teaching exemplifies a focus on students and their environment.
"Her course materials emphasize the connection of language arts standards to current events and popular culture; they emphasize media literacy, and she models in her own teaching for best practices for integrating these to her students," Loranger said. "Generous classroom time is given to reflection based on experience as a means to lead students to an innate as well as intellectual understanding of the pedagogical theories behind the lessons."
Janie Marie Murphy, one of Beumer Johnson's former students, said, "She taught me the value of using literature that my students can relate to, and she showed me how to develop creative lessons that could inspire my students to become lifelong readers."