Few television shows bring audiences closer to the edge of their seats than Mad Men. Through its first six seasons, the critically acclaimed show has captivated viewers, throwing them into the hustle and bustle of the advertising world of the 1960s. With all of the sex, scandal and cigarettes, Mad Men is the last thing you would expect to see in the classroom.
But one Wright State University professor is using Mad Men as a vehicle to get his students to read. This semester, Andrew Strombeck, Ph.D., associate professor of English, created the course Mad Men and Literature 1965–70 to show the influence literature has on pop culture.
"This is a course about the literature of the late '60s, embedded in the rich historical context provided by Mad Men," said Strombeck.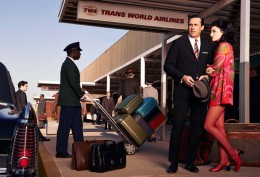 "I've often found that it's difficult for students to grasp the historical context of the '60s, a decade which students either seem to assume is much like the present or which they associate narrowly with the high-profile events of the late '60s, which are often summarized as just antiwar protests and Woodstock," said Strombeck.
Mad Men is deeply committed to historical context in a serious and nuanced way, Strombeck said. The show offers audiences a personal perspective of historical events from "ordinary people," he said, which helps students to better understand '60s culture.
What really led Strombeck to create his English course, though, was how often Mad Men characters are shown reading.
"The show's creators clearly see literature as an important means of understanding the time period," said Strombeck. "For example, a set of Frank O'Hara poems becomes an instrumental framing device for Don Draper, the main character."
Strombeck said that even the show itself offers a literary account of the '60s. Mad Men is conscious of itself as a television show, but also acts as a serious work of narrative.
Having committed to teaching only literary works that appear on or are referenced by the show, Strombeck said that even brief cameos of titles are reason enough to get his students to read that book.
"Even if it's incorporated into an episode title, as was the Sylvia Plath poem "Lady Lazarus," it's fair game," said Strombeck. "In an immediate sense, I was prompted to start this course by the jarring experience of watching a Mad Men episode which featured a character reading Thomas Pynchon's The Crying of Lot 49, a book I love and have taught several times before."
In addition to the office politics and scandalous nature of Mad Men, the show occasionally focuses on race relations.
"Although no one is reading African American literature on the show, because it's from a roughly white, middle-class point of view, race relations form a key background issue," said Strombeck. "Each time I've taught the course I've included a select work by an African American author. Last time it was James Baldwin's The Fire Next Time and this time it's Ishmael Reed's The Last Days of Louisiana Red."
To best prepare for the course, Strombeck asked his students to watch at least one season of Mad Men before registering. But in the end, Strombeck said, the course is not about the show. It's about the literature in the context of the show.
Strombeck hopes his students walk away from Mad Men and Literature 1965–70 with a fresh sense of the '60s as a decade whose cultural conflicts shape the present, particularly in terms of the rise of contemporary conservatism.
"I want my students to have a better sense for how the literature of the era responded to these conflicts," said Strombeck. "Mad Men shows how literature fits into the post-1945 landscape of television and advertising. How often do we get to think about television characters who read?"
"The seventh and final season of Mad Men airs on AMC Sunday, April 13 at 10 p.m. It will begin with Don Draper reading Dante's "Inferno."
To learn more about Mad Men and Literature 1965–70, contact the Department of English Language and Literatures at (937) 775-3136 or visit wright.edu/english.