The Wright State University Dance Ensemble will premiere six pieces and feature guest performances by two prominent Dayton dance companies during its Spring Dance Concert.
Performances take place in the Festival Playhouse in the Creative Arts Center on Thursday, April 24, at 7 p.m.; Friday and Saturday, April 25 and 26, at 8 p.m.; and Sunday, April 27, at 2 p.m.
Works span from abstract to traditional to emotional. The concert includes premieres of three works by Wright State dance faculty: "… transcending tides …, Reconstruction," choreographed by Teressa Wylie McWilliams, Dance Program coordinator and professor; "Pull," choreographed by assistant professor Gina Walther; and "They have escaped the weight of …," choreographed by assistant professor Justin Gibbs.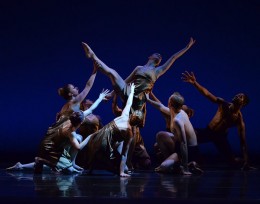 Performances also include a piece by senior dance major Abby Leithart and the premiere of "Let It Go," choreographed by Shannon Bramham during her November residency at Wright State. Bramham is a company member of the internationally renowned Koresh Dance Company.
In addition, the concert will feature guest works by Dayton Contemporary Dance Company II and Dayton Ballet II.
Tickets are $10 for adults and $5 for students and can be purchased by calling the Theatre Box Office at (937) 775-2500.
Dance Intensive Workshop for high school students
Wright State's Dance Program will conduct its seventh annual Dance Intensive Workshop on Saturday, April 26, from 10 a.m. to 4 p.m.
Open to students 14 and older, the workshop will provide technique classes on jazz, tap, modern, ballet, pointe, hip-hop and lyrical. Participating faculty members include Teressa Wylie McWilliams, Gina Walther, Justin Gibbs and Greg Hellems.
The workshop costs $45. Each participant will receive a complimentary ticket to the Spring Dance Concert.
More information, including registration details, is available on the Dance Program website or by calling (937) 775-3792.