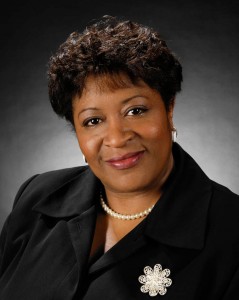 Brenda Ellis passed away June 8 in Beachwood, Ohio, where she had lived for the last three years.
Ellis, Ed.D., was a retired associate professor of music and former director of the Paul Laurence Dunbar Chorale at Wright State University.
Wright State's Organization of Black Faculty and Staff said Ellis was a role model who will be remembered through the Dunbar Chorale, her students and her music.
"Brenda was one of our brightest lights, enriching the lives of faculty, students and staff over the course of her 19 years at Wright State," said Marlese Durr, past president, and Audwin Jones, historian, of the Organization of Black Faculty and Staff. "She inspired all who recognized her efficacy and were ready to grow . . . by being a source of encouragement and inspiration and an ambassador in our midst, building bridges across racial, gender and class lines, wherever you were, through her smile and music."
Ellis taught both undergraduate and graduate courses in African American music and music education at Wright State and was a faculty member of the Gospel Music Workshop of America, where she taught a course in research in African American sacred music and was the coordinator of the University Academic Program.
As director of the Paul Laurence Dunbar Chorale, Ellis created an ensemble whose mission is to educate while entertaining through performances of a variety of African American music, including spirituals, gospel, anthems, blues and jazz.
Highlights of the chorale's performances include the Art of Gospel Music Series at the Dayton Art Institute, Wright State and United Theological Seminary commencement ceremonies and premier receptions for the Theatre Program's award-winning production of 1913:The Great Dayton Flood and Harlem Renaissance in Black and White.
She also served as a director of music in many churches and worked with local arts organizations presenting public performances of African American music.
Ellis earned bachelor's degrees in music performance and social science at Hiram College, a master's degree in music education from Case Western Reserve University and a master's and doctorate in music education from Columbia University.