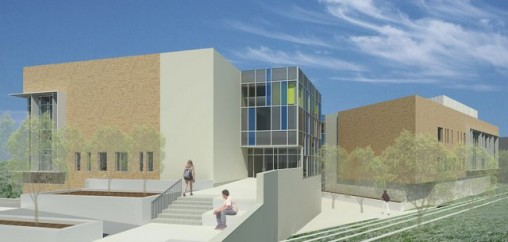 Wright State University will celebrate a milestone in the construction of the Student Success Center and Classroom Building during a topping out ceremony on Thursday, June 19.
Due to the rainy weather, the ceremony begins at noon on the third floor of University Hall.
A custom in the construction industry, topping out marks the placement of the final beam atop a structure during its erection. Before the final steel support beam is put into place, members of the administration, campus leadership and special guests will sign the beam for posterity.
The 67,000-square-foot, $14.3 million Student Success Center and Classroom Building is expected to open during the 2015 Summer Semester.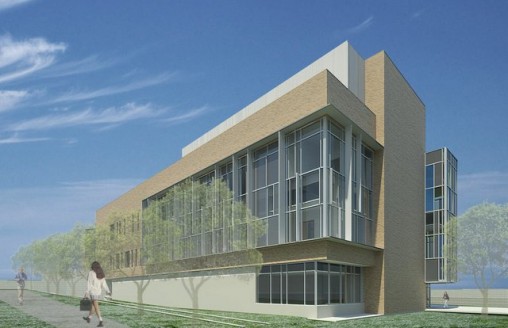 The facility will include four active learning classrooms, a 225-seat auditorium and informal study areas. It will also become the new unified home for many vital academic support services.
"One of the goals was to greatly increase the number of students who utilize these services," said Thomas Sudkamp, Ph.D., vice president for curriculum and instruction. "In this building, students will be able to attend class, study and obtain academic support and advising in one place."
University College programs and services, which are currently spread out in three buildings, will all reside in one location when the new facility opens. These services include Advising and Transfer Services, First-Year Programs, Math Studio and the Student Academic Success Center, which is home to tutoring services, supplemental instruction, the Math Learning Center and the Writing Center.
University College programs are utilized by 6,500 students, with another 365 working as tutors, peer mentors and in other academic support roles.
The building's active learning classrooms will offer students a cutting-edge educational experience, accommodating small groups working together rather than a traditional lecture setup. In an active learning course, class time is often devoted to collaborative problem solving, topic discussion, a group project or other active learning activities.
Classroom tables are outfitted with a circle of laptop computers. Each group will have a SmartBoard projector and screen to display their work or explore the topic at hand.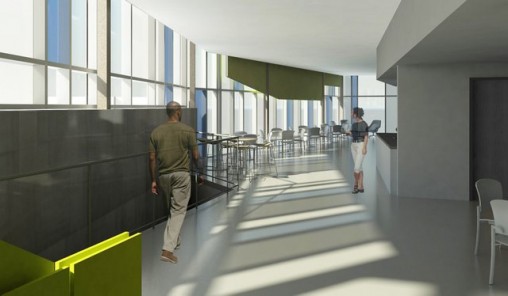 "The active learning classrooms in the new building will give many first-year students daily proximity to the wrap-around academic support services of University College, which emphasizes our focus on active cultures of learning," said Tim Littell, assistant dean for programming in University College.
The multiuse building will provide huddle spaces for study and discussion, a study room for Raider athletes, a conference room for military and other training sessions, a courtyard, universal access and family restrooms, and a tunnel connecting to University Hall and the rest of the campus tunnel system.
This building is designed using many best practices and is energy efficient and atmospherically friendly. It will include high-efficient lighting, and rainwater will be filtered through a rain garden before it enters the sewer system.
New trees will be planted to replace those lost while preparing for the building's construction. Sixteen trees have been moved from the site to the alumni grove.
Annette Miller Architects designed the building, and Monarch Construction of Cincinnati was selected for the construction.
Learn more about the Student Success Center and Classroom Building >>