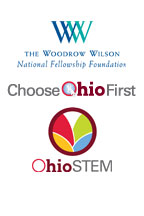 Nine Wright State University graduates were named Woodrow Wilson Teaching Fellows in Ohio and Indiana, a prestigious honor recognizing STEMM experts who will teach in high-need schools.
The 79 Ohio Fellows were announced June 30 at the Ohio Statehouse by the Ohio Board of Regents, the Ohio Department of Education and the Woodrow Wilson National Fellowship Foundation.
The Woodrow Wilson Ohio Teaching Fellowship recruits top-quality teacher candidates to teach math and science in high-need Ohio schools. The Fellows include both accomplished career changers and outstanding recent college graduates, all with backgrounds in science, technology, engineering, math and medicine.
Board of Regents Chancellor John Carey said the Fellows will bring additional firepower to one of the noblest professions.
"It is crucial that students in our high-need schools have only the best and brightest teachers to help them prepare for the future, and the Woodrow Wilson Fellows fit the bill," Carey said. "With all of our efforts at the Board of Regents to ensure that Ohio's students are prepared for the workforce, particularly in STEMM and other high-demand fields, the importance of their work cannot be overstated."
Each Fellow receives a $30,000 stipend while completing a rigorous master's program at one of seven participating Ohio universities. The Fellows receive a full year of practical experience in local classrooms, then commit to teach for three years in Ohio's high-need schools.
The Wright State graduates include a published author, a statistical analyst, a park ranger, owner of a trucking company and an intern at the National Oceanic and Atmospheric Administration.
They are Jaron Fischer (2013), Aimee Ginnever (2011), Jean Goettemoeller (2014), Brian Haley (2005), Nathaniel Hatton (2012), Gregory Koth (2014), Markeata Lee (2014), Morgan Lloyd (2014) and Cynthia Rogers (2010).
The 2014 class of teacher candidates — the state's fourth — will be ready to enter their own classrooms in fall 2015. This year's group brings to 288 the total number of Fellows named in Ohio since the program's 2010 launch. Program administrators project that the Fellows to date will touch the lives of nearly 30,000 students each year.
"These Fellows are really impressive people, and they are going to receive some of the strongest teaching preparation available," said Arthur Levine, president of the Woodrow Wilson National Fellowship Foundation. "The campuses and districts working with them are creating new models of teacher education. So not only will this year's Fellows change countless lives, they are also part of an effort to change the way teachers nationwide learn to help their students succeed."
The Woodrow Wilson National Fellowship Foundation, based in Princeton, N.J., created the Fellowship and administers the program in five states — Ohio, Indiana, Michigan, New Jersey and Georgia.
More information about the Woodrow Wilson Ohio Teaching Fellowship is available at woodrow.org/ohio.