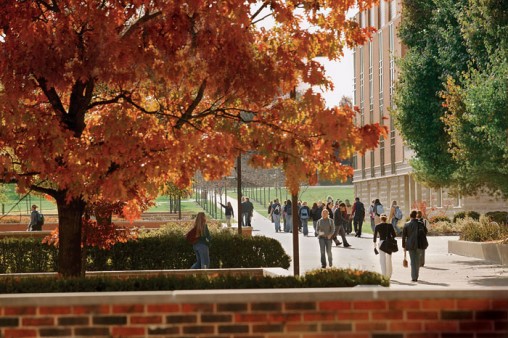 At the end of its first week of classes, Wright State University's enrollment climbed to 16,489 students at its Dayton campus and 1,157 students at its Lake Campus in Celina, according to unofficial enrollment numbers available Monday, Sept. 2.
Enrollment overall — 17,421 students — has increased 1.2 percent at Wright State compared to the same time last year. An additional 416 students attend Wright State's Boonshoft School of Medicine.
Increases in African-American students (up 4 percent to 1,924), graduate and professional students (up 8.2 percent to 3,740), and international students (up 18.3 percent to 1,781) continue Wright State's role in serving students representing a variety of backgrounds, preparedness and perspective.
Additionally, 11 percent more high school students — called first-time, direct-from-high-school students — chose Wright State for college this year.
While public university enrollment is measured officially each year on the 14th day of classes, Wright State University President David R. Hopkins noted in a State of the University address at the university's annual Convocation on Aug. 28 that "already it appears we will touch many more lives this year."
"I am looking forward to this year more than any before and the abundant possibilities for our students, faculty and staff," he said.
Public policy organizations are recognizing the need for universities to serve "21st century students," or those students who come through a variety of pathways and at varying levels of academic, financial and experiential preparedness to complete a college degree at a time when states are focusing on educational attainment to be more competitive in a global economy.
"Of about 4,000 total higher education institutions in country, Wright State is among 100 institutions who are leading as a new breed of public research universities that are more relevant to the changing needs of our students and communities in the 21st century," Hopkins said.
This upcoming year Wright State is focusing on several initiatives — capital construction investments and programs — intended to create multiple pathways for students to reach the finish line of their degrees and move seamlessly into careers. The university will open its Student Academic Success Center and Classroom Building focused on retention of undergraduate students; open its world-class Neuroscience Engineering Collaboration building; is focusing on providing opportunities for veterans; and is transforming its career services to provide experiential learning, co-ops and internships, and meet the needs of employers.
"Wright State attention's to these initiatives will create opportunities for students to get the education and experience relevant to their needs, and the needs of the state," said Wright State University Provost S. Narayanan.