Aspirational artists of all ages can express themselves by creating and showcasing their work at the Robert and Elaine Stein Galleries during Wright State University's annual "Draw on the Walls" event.
The event takes place Thursday, Oct. 16, from 10 a.m. to 7 p.m. in the galleries in the Creative Arts Center.
The galleries' walls will be lined with paper for guests to draw on. Pencils, colored chalk, compressed charcoal and other drawing materials will be provided.
"We have kids doodling alongside working artists. This is a lot of fun for anyone who wants to see their artwork on a gallery wall," said Tess Cortes, Stein Galleries coordinator.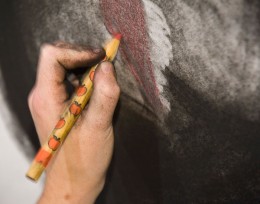 Participants may bring their own drawing materials, but aerosol products are not allowed. Children are welcome at the event. Although the artwork is usually family friendly, content on the walls will not be censored.
Every hour, the galleries will screen an episode from the new season of the award-winning PBS series "Art21," as part of National Arts and Humanities Month. The documentary series' seventh season debuts Oct. 24. It profiles artists who reveal how art can transform the lives of individuals and communities.
"Draw on the Walls" is supported by the College of Liberal Arts, the Ohio Arts Council and individual supporters of the galleries. ART21 Access '14 events are presented in partnership with Americans for the Arts, the YMCA and the National Alliance for Media Arts and Culture.
For more information on upcoming events and exhibitions or for driving directions, contact the galleries at (937) 775-2978 or visit wright.edu/artgalleries.