Graduating students registered in Wright State University's Office of Disability Services (ODS) will be recognized at the annual Office of Disability Services Scholarship and Graduation Reception from 3 to 4:30 p.m. on Tuesday, April 14, in E156 Student Union.
All scholarship recipients, graduating students, graduating student employees and faculty and staff who have worked with ODS are invited.
This is the sixth year ODS has hosted the Scholarship and Graduation Reception. Last year, 75 individuals attended.
The event is about "celebrating our students' achievements both in and out of the classroom and showing appreciation to our many student employees who help us make it happen for students with disabilities attending Wright State," said Jean Denney, assistant director of disability services.
Both registered graduating students and student employees are recognized for their achievements at the reception and are given a gift.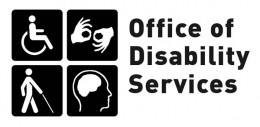 Sixteen ODS scholarship recipients were chosen by the ODS Scholarship Selection Committee, which is composed of staff members Jean Denney, Angie Bonza, Jason Gepperth and Valita Whilhoite.
"Each year we award approximately $30,000 to $35,000 in scholarships to continuing and incoming students registered with our office," said Denney.
Below is a list of 26 scholarship recipients.
Faculty and staff will also be recognized for their support of students with disabilities and of ODS. They will receive a Golden Spoke Award.
Faculty and staff award recipients include Seth Bauguess, director of communications; Jenny Daws, office assistant, Residence Life and Housing; Michael Edwards, STEP program manager in the College of Science and Mathematics; Ryan Hamilton, electrical engineering instructor; Jeff Hiles, instructional designer in the Center for Teaching and Learning; Will Jones, university photographer; and Kathy Warden, facilities planner.
Office of Disability Services Scholarship
Spencer Martin, ODS Scholarship, $500
Nick Ramos, ODS Scholarship for First Year Students, $500
Hannah Regan, ODS Scholarship for Students with Learning Disabilities, $500
Evelyn Quinn, ODS Scholarship for Minority Students, $500
Kristy Epperson, Beavercreek Lions Scholarship, $500
Shirlisa Scott and Jacob Slezak, Fairborn Lions Scholarship, $500 to each
Caelan Buford, Fred White Prize, $500
Alan Berens, Grabowski Family Scholarship, $500
Madison Muskopf, Leber Family Fund, $500
Ngan Ho and Carl Pickl, Thomas C. Faye Endowed Scholarship, $500 to each
Matthew Franey, George Vernooy Independence Prize, $500
Lakeshia Horton and Kenna Rodriguez, Jeff Vernooy Scholarship, $1,000 to each
Nick Engel, Robert Sabwami and Seth Seibert, Ohio Lions Helen Keller Scholarship, $1,500 to each
Benjamin Hamilton and Mitchell Schneider, Fred White Endowed Scholarship, $1,800 to each
Kristy Epperson, ACB Ohio Scholarship, $2,000
Catalleya Storm, Samantha Laux Scholarship, $2,000
Alan Hieber and Jacob Huff, Michael Emrick Scholarship, $2,500 to each
Selina Lee and Tyler Murphy, Lee R. and Mark Menke Scholarship, $3,000 to each