This Week in Global Health, a weekly live global Internet show, recently featured vodcasts about mobile health, also known as mHealth, produced by Wright State University Boonshoft School of Medicine Master of Public Health (M.P.H.) students.
As part of their Global Health Systems class at Wright State, six M.P.H. students worked together to produce three vodcasts, or video podcasts, about mHealth, which is the use of handheld electronic devices, including cellphones and tablets, to communicate between health care providers, public health officials and individuals. It can be used to send text messages to people to remind them to take medicine or to issue announcements in public health emergencies.
The first vodcast the students produced is about mHealth. The second vodcast looks at how mHealth is working around the world through cellphones and apps. The third explores the challenges faced by mHealth.
"This was a great exercise to practice collaboration, communication, critical thinking and creativity — all 21st century learning skills that are also crucial for the practice of global health," said Cristina Redko, Ph.D., assistant professor of community health at the Boonshoft School of Medicine Center for Global Health. "Disseminating information through the Internet also is crucial to reach global health practitioners around the world."
When Redko first assigned the students the project, many of them had not made a video podcast for educational purposes. So Redko connected the students with the Student Technology Assistance Center (STAC) in Wright State's Dunbar Library.
STAC specialists Beth Anderson and Jamon Flowers met with the M.P.H. students about the multimedia production portion of their vodcasts. They offered the students a workshop, illustrating how to use Garageband, audio creating and editing software, and iMovie, video creating and editing software.
"From the expressions on their faces, we could tell that they were a bit nervous about using the software because none of them had any familiarity with it," said Flowers, who offered to meet with them on a weekly basis, advising them throughout the vodcast production. "By the end of their project, they were able to confidently use iMovie, Garageband and Photoshop in addition to locating and selecting high resolution images for their vodcasts."
Emily Surico, one of the M.P.H. students, appreciated Flowers' support and advice. In addition to mastering Garageband and iMovie, she and her classmates learned how to collaborate with one another and balance the various tasks and responsibilities associated with the group project.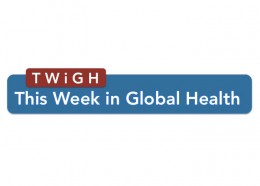 "This innovative project provided all of us with a set of skills that will be useful when addressing global health issues," she said. "It allows us to provide education on a particular health topic to a large group of people in a very fast way."
The group chose to focus the vodcast project on mHealth to showcase the potential use for cellphones to improve population health.
"MHealth utilizes a system of communication that is already in place for so many people globally," Surico said. "It has the potential to fill in the gaps, at a low cost, where health services are needed but are not being provided."
This Week in Global Health featured the vodcasts on its website, twigh.org.
Greg Martin, M.D., a global health expert based out of Dublin, Ireland, agreed to work with the M.P.H. students because of their overwhelming enthusiasm for the project.
"It's great to work with young people who are prepared to work so hard and so passionately on a subject matter that they are both intellectually and emotionally connected to," Martin said.
This was the first group who proposed creating video content themselves.
"There is an incredibly steep learning curve," Martin said. "The students impressed me with their ability to get up-to-speed on the technical issues related to video creation, and of course, they impressed me with the quality of the content that they produced."
The students involved in the mHealth vodcast project are Mosimah Charles Ituka, Kenneth Mackenthun, Charles Mahakian, Kristin Sinning, Emily Surico and Fartun Yussuf.
Vodcast 1 can be seen on YouTube at youtube.com/watch?v=A5hSs8yTXvc.
Vodcast 2 can be seen on YouTube at youtube.com/watch?v=Q9lPFXz5AMY.
Vodcast 3 will be released next week.