Hello, Nǐ hǎo or as-salamu alaikum!
Wright State University is celebrating Asian Heritage Month with many educational and fun activities throughout April. Activities include a film screening, panel discussions, workshops and several art experiences.
Asian Heritage Month provides an "opportunity to share about Asian culture and the contributions of the Asian American community to enhance the rich diversity of our campus and Dayton communities," said Mai Nguyen, director of Wright State's Asian and Native American Center.
All events are free and open to the public. More information is available at wright.edu/ana.
Tuesday, April 5
5-7 p.m., E163 Student Union
Film screening: "Tested"
The documentary studies the lack of racial diversity at top public high schools in New York City by following a dozen different families. Nguyen said that although "Tested" is focused on New York City, she thinks issues of diversity, access and testing are national.
"I think this film is a good opportunity for all of us to come together to explore and to improve issues such as racial equality, social injustice, affirmative action and the model minority myth," said Nguyen. "I hope the film will help to dispel these stereotypes of Asian Americans and encourage all communities to approach each other as allies, as we watch how a diverse group of families pursue educational opportunities for their children."
The event is co-sponsored by the Asian and Native American Center and the Bolinga Black Cultural Resources Center.
Thursday, April 7
11 a.m. to 12:20 p.m., Millett Hall Atrium
Lecture: Forever Suspect: Surveillance of Muslims in the War of Terror
Saher Selod, assistant professor of sociology at Simmons College, will discuss how the Muslim identity has acquired racial meanings within criminal justice, domestic and foreign policy and national security.
Thursday, April 7
2 to 3:15 p.m., Millett Hall Atrium
Panel discussion: The Styles of Islamic Dress
Muslim students and Dayton community members will discuss why they have chosen to wear the hijab or chose not to wear the hijab and how their decision has affected their education, career and interaction with others.
The event is co-sponsored by the Asian and Native American Center and the Learning English for Academic and Professional Purposes Program.
Friday, April 8
3:30 to 4:30 p.m., Multicultural Lounge, 161 Millett Hall
Workshop: Identity is not a Math Equation: Multiracial, Multiethnic and Mixed Identity
Discussions will focus on ascribing identities upon others, how racial identity is influenced by internal and external factors, a history of mixed race in America and common myths about the mixed race experience.
Monday, April 11, to Friday, April 15
9 a.m. to 5 p.m., Multicultural Lounge, 161 Millett Hall
Discover Islam Poster Exhibition
Exhibit features posters exploring the Islamic world and Muslims.
Wednesday, April 13
11:30 a.m. to 1 p.m., Multicultural Lounge, 161 Millett Hall
Workshop: Chinese Brush Painting
Participants will learn the art of Chinese brush-and-ink painting with Yufeng Wang, professor of history at Sinclair Community College. Limited space available, and registration is required by contacting 937-775-2798 or mia.honaker@wright.edu.
Saturday, April 16
7 p.m., Student Union Apollo Room
Asian Culture Night: A Night of Cultural ExplorASIAN through the performing arts
This event includes traditional dances, music and a fashion show.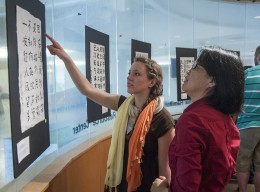 Tuesday, April 19, to Tuesday, April 26
Multicultural Lounge, 161 Millett Hall
Chinese Calligraphy Exhibition
Viewers can vote on their favorite work by Wright State students.
"We hope participants will discover something they haven't discovered before and create more understanding and bridge the gap of understanding the Asian culture," said Nguyen. "We might look different or speak different languages, but if we sit down and talk about what we have, we have many similarities."