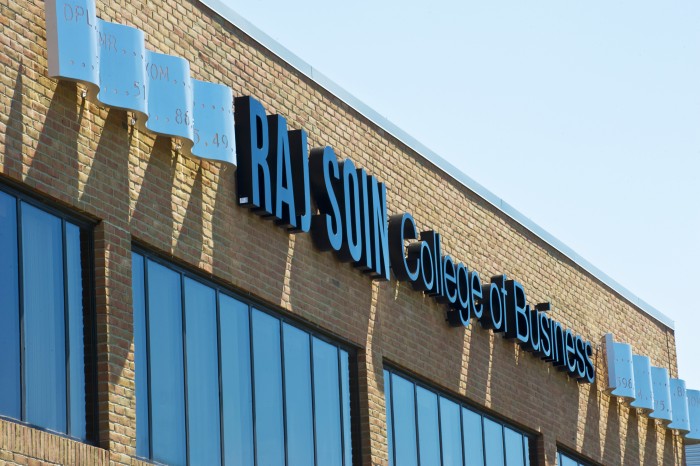 The Raj Soin College of Business at Wright State University has maintained its business and accounting accreditation by AACSB International — the Association to Advance Collegiate Schools of Business.
Founded in 1916, AACSB International is the longest serving global accrediting body for business schools that offer undergraduate, master's and doctoral degrees in business and accounting.
AACSB Accreditation is the hallmark of excellence in business education and has been earned by less than 5 percent of the world's business programs. Today, 755 business schools in 51 countries and territories maintain AACSB Accreditation, and 182 institutions maintain an additional specialized AACSB Accreditation for their accounting programs.
The undergraduate program of the Raj Soin College of Business was initially accredited by AACSB in 1974, with graduate programs receiving initial accreditation in 1980. The Accountancy program was separately accredited in 1990.
Since then the college has maintained its accredited status by ensuing the highest level of quality in teaching, research and service. The Raj Soin College of Business is mindful of creating a student-focus environment that emphasizes experiential learning and career placement. The college is also cognizant of the value of nurturing strong partnerships with industries and retaining exceptional faculty.
Over the last five years, the college has developed new programs, such as the online MBA program and the four-year business degree at the Lake Campus; new resources for students, such as the student-managed ReyRey Café and the Data Analytics and Visualization Environment (DAVE) Lab; and efforts toward improving student career services by developing an in-house career management office and a streamlined approach for internships.
The AACSB visiting peer review team commended the college on five different items, which is a fairly rare occurrence. The college received commendations on the following: level of engagement by all college stakeholders; the development of the Rey-Rey Café providing a "perfect example of the experiential learning that the college promotes"; the DAVE Lab for its cross-curricular potential driven by the needs of regional business; the Soin Trading Room, which is recognized as a top finance trading lab in the nation for its function and design; and the college's mature assessment and assurance of learning process that adopts the innovative faculty-developed Assess My Program software.
"We are proud that the Raj Soin College of Business has earned the extension of accreditation for the next five years for both business and accounting programs," said Dean Joanne Li. "Congratulations to all the stakeholders for their continuous support and engagement. We are all committed to providing the best learning experience for our students and look forward to another spectacular five years."
To learn more about AACSB International accreditation, visit the accreditation section of the AACSB International website.