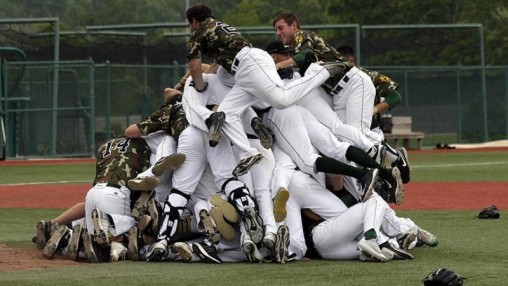 The Wright State baseball team scored all of its runs in the first three innings and, behind the pitching of Caleb Sampen, defeated Valparaiso 7-2 for its second consecutive Horizon League tournament title Saturday afternoon, May 28, at Nischwitz Stadium.
With the win, the Raiders secured a spot in the NCAA baseball tournament for the second straight season. Wright State will make its sixth appearance in the NCAA Division I Regionals (1994, 2006, 2009, 2011, 2015).
After both teams stranded a runner in scoring position in the first, the Raider offense came alive with four runs in the second. With one out, Gabe Snyder singled up the middle and after JD Orr reached on an infield hit with two outs, both runners moved up a base on a wild pitch and both scored as John Brodner had a hit up the middle.
Following a Matt Morrow single to center, Mitch Roman dropped a double just out of reach of the center fielder in left center for a two-run double to make it 4-0.
Wright State extended the margin to 7-0 with three more in the third. With one out, Sean Murphy walked and Snyder had a hit through the left side of the infield. One out later, Orr singled to left center to plate Murphy and runners ended up at second and third as the throw went into third. Brodner then knocked in Snyder and Orr with a single up the middle.
Valpo tallied single runs in the fifth and sixth innings, but Sampen (8-3) would allow no more runs the rest of the way as he scattered seven hits in a complete-game effort, walking one and striking out seven.
The tournament's top seed, Wright State advanced to the Horizon League finals by defeating Milwaukee 5-1 on May 27 and UIC 11-3 on May 26.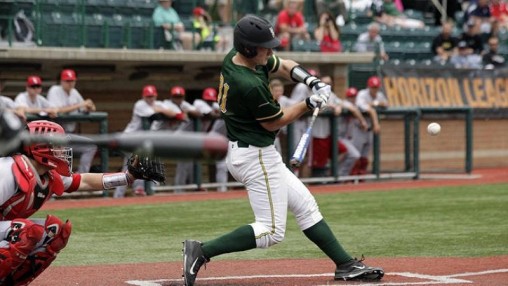 Brodner, who had two hits and four RBI total in the championship game and hit .417 with five RBI in three games, was selected as the Tournament MVP. He was joined on the All-Tournament Team by pitchers Sampen and Robby Sexton, who threw 6.2 shutout innings with eight strikeouts in the winner's bracket final against Milwaukee; first baseman Gabe Snyder, who led the Raiders with a .556 batting average, including three hits in the championship game, and scored four times; and outfielder JD Orr, who hit .500, including two hits in the final, had three RBI and scored three times.
Wright State (44-15), which now has the second-most wins in a season in school history, will find who and where the team will play when the NCAA tournament bracket is announced Monday, May 30, at noon on ESPNU.
The team invites Raider fans to join them at the TJ Chumps, at 1100 E. Dayton-Yellow Springs Rd. in Fairborn for the selection show. The NCAA will announce the 16 regional sites on Sunday.