Wright State University was named to the 2015 President's Higher Education Community Service Honor Roll for the university's support of volunteering, student community service, service learning and civic engagement.
The university was recognized in three categories:
General Community Service – Honor Roll With Distinction
Education – Honor Roll With Distinction
Economic Opportunity – Honor Roll
"To serve the community is part of our culture at Wright State," said Jack Dustin, interim director of service-learning and civic engagement. "The award is a tribute to our students, faculty and staff who truly want to make a difference in their communities."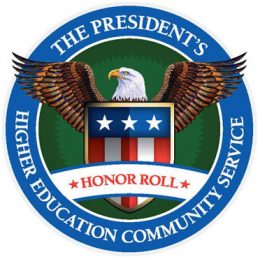 This is the eighth year Wright State has been named to the prestigious Honor Roll. It was the only university in Ohio named With Distinction for Education. Less than 20 percent of colleges and universities named to the list are awarded the Distinction designation.
Wright State's commitment to service is campus-wide. A total of 13,676 Wright State students were involved in community service or academic service-learning during the 2014–15 school year, resulting in 1,495,561 service hours.
Examples of community service that helped earn the recognition include:
Each varsity athletic team completes community service. Student athletes visited children in the hospital, mentored at-risk youth and helped build homes for Habitat for Humanity. Athletes also participated in or conducted fundraisers for organizations, such as the Ronald McDonald House, Leukemia and Lymphoma Society, Dayton Children's Hospital, Dayton Food Bank and the Wright State Student Food Pantry.
Through the Veterans Voices Project, stories of both student veterans and veterans from surrounding communities were recorded and are stored at the Library of Congress and the Wright State Archives. Veterans from World War II, Korean Conflict, Vietnam War, peacetime/Cold war, Desert Storm and OEF/OIF have shared their memories. The project is a combined effort by Wright State's Veteran and Military Center, WYSO, VFW and area American Legion Posts, Dayton VA Center and Wright-Patterson Air Force Base.
The Boonshoft School of Medicine provided over 31,000 hours of service to the Dayton region and nine developing countries in 2014-15. All medical students complete 60 hours of service in the first and second years. One international program involved the Luke Commission in Manzini, Swaziland. Two Boonshoft faculty and eight medical students provided medical service for four weeks to combat HIV/AIDS at the Luke Commission Compound and remote rural areas. Close to 200 patients a day were served. In total, more than 4,000 patients were served during the month-long service trip.
The Nonprofit Leadership Alliance (NLA) at Wright State is an academic and service program. The academic certificate program evolved from partnerships with nonprofit community partners and is designed to provide students real-world experience. A student association is a key component and serves nonprofits and organizes workshops and special events that promote awareness of social need and services. During 2014-15, NLA students collaborated with 26 nonprofit organizations. Through these partnerships, 23 students completed 1,630 service hours and 10 students completed 3,000 hours of service through internships. NLA students also utilized knowledge gained through their coursework to evaluate programs and services.
El Puente Learning Center, a tutoring and mentoring program staffed in large part by Wright State students, serves children in grades K-6 from Latino families. El Puente has been chosen twice as a Best Practice by the Ohio Latino Educational Summit and has been featured in Latina magazine and by WYSO Public Radio and Think TV. In 2015, 130 Wright State students provided tutoring assistance to 90 students and 230 of their family members. Approximately 2,900 Wright State volunteer hours were donated, valued at $63,191. Tutoring helped Latino students gain one grade level in reading and helped avoid the "summer slide."
Wright State's commitment to serving others is embedded in the heart and soul of the institution and supports its mission to transform the lives of its students and communities. It supports more than 70 designated service-learning courses and many more with service components, 500-600 tutors, an Engaged Citizenship Studies Certificate and a Youth and Community Engagement minor.
"Service-learning enhances the educational experience by giving students the opportunity to apply what they learn in the classroom to real community problems," Dustin said. "It also helps prepare them to be engaged citizens once they graduate."
The President's Higher Education Community Service Honor Roll highlights the role colleges and universities play in solving community challenges and as a result, more students are likely to pursue a lifelong path of civic engagement that achieves meaningful and measurable outcomes in the communities they serve.
The Corporation for National and Community Service has administered the award since 2006 in collaboration with the U.S. Department of Education and the U.S. Department of Housing and Urban Development, as well as the American Council on Education, Campus Compact and the Interfaith Youth Core.