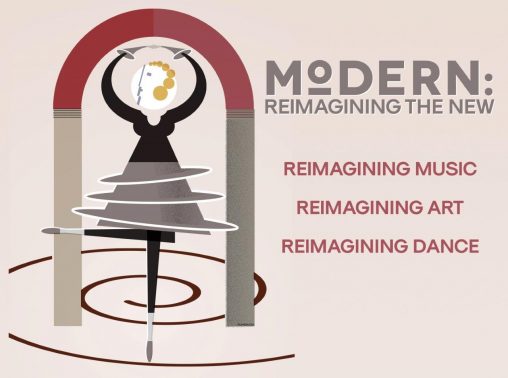 The re-installation of a geometrical wall drawing originally overseen by a founder of Conceptual Art plus performances by an internationally acclaimed percussion ensemble and celebrated dance company will highlight Wright State University's tribute to Modern Art.
"MODERN: Reimagining the New. A window into the making of the Modern Art movement" is the theme to the series of College of Liberal Arts events that will feature work by artist Sol LeWitt, Sō Percussion and Dwight Rhoden and his Complexions Contemporary Ballet.
"The end result is going to be a very, very significant event here on campus for pretty much the whole year," said Hank Dahlman, director of Wright State's Collaborative Education, Leadership and Innovation in the Arts (CELIA). "It will answer two questions — where have we been and where are we going?"
The events, which begin Jan. 19 and run through Sept. 28, will occur under the direction of three CELIA Fellows: Stefan Chinov, associate professor of art and art history; Gerald Noble, director of percussion; and Gina Walther, associate professor of dance.
LeWitt, who died in 2007, is regarded as a founder of both Minimal and Conceptual art. His prolific two and three-dimensional work includes more than 1,200 wall drawings as well as hundreds of works on paper extending to structures in the form of towers, pyramids, geometric forms and progressions. The works range in size from gallery-sized installations to monumental outdoor pieces.
In 1981, LeWitt wall drawings were installed at what is now the Trading Room in Wright State's Rike Hall. They were done in pencil and chalk over nearly the entire length of a 69-foot-long wall. The four geometric designs were intended to be drawn within the shape of a cube, but were instead drawn horizontally because of the shape of the wall. The drawings were lost when the wall was torn down during renovation.
As part of Wright State's tribute to Modern Art, the designs will be re-drawn in the shape of a cube on a blank wall in the Robert and Elaine Stein Galleries in the university's Creative Arts Center. Visiting professional artists selected by the LeWitt Foundation with the help of Wright State faculty and students intend to begin drawing on Feb. 6 and finish by Feb. 16. LeWitt rarely executed his own drawings, but rather provided explicit, detailed instructions on how they were to be drawn.
Dahlman said the re-installation is a way to show how the same idea can be executed in different ways – something those in the Modern Art movement were interested in examining.
"Art is never exactly the same way twice," he said. "As an art lover, I think immediately of the studies that Monet did of his lily pond – never two ways the same, always different light, always different times of year."
In addition to the re-installation, there will be a Curatorial Talk on LeWitt at the Dayton Art Institute by Chinov and Susan Martis, the institute's curator of education, beginning at 6 p.m. on Jan. 19. On Feb. 2, from 6 to 8 p.m., the institute will have a public screening of "Sol LeWitt," a documentary film by Chris Teerinks. A second public screening of the film will occur from 2 to 4 p.m. on Feb. 24 at the Stein Galleries and include a panel discussion with Chinov and Karla Huebner, associate professor of art and art history.
John Hogan, who guided and oversaw most of the LeWitt installations and is considered the world's foremost expert on LeWitt's art, will lecture at Wright State Stein Galleries on March 12 beginning at 2:30 p.m., prior to the public opening of the re-installed LeWitt wall art. Hogan is installation director and archivist of Sol LeWitt Wall Drawings housed at the Yale University Art Gallery.
"There is a connection between what John Hogan and his people will be doing in terms of executing the art that musicians and dancers also do," said Dahlman. "They are often told: 'Here are the instructions; now make the art happen.'"
The musical component of Wright State's Modern Art tribute will feature the Sō Percussion Residency. Sō Percussion is based at Princeton University, where the group offers educational work and performs concerts. They are also co-directors of the percussion department at the Bard College-Conservatory of Music and run the annual Sō Percussion Summer Institute for college-age composers and percussionists.
The four-member group includes Eric Cha-Beach, Josh Quillen, Adam Sliwinski and Jason Treuting. Their repertoire features "classics" of the 20th century to their own works ranging from standard concert pieces to immersive multi-genre programs. In these concert-length programs, Sō Percussion employs a 21st century synthesis of original music, artistic collaboration, theatrical production and visual art to explore their own creative experiences.
"The idea of percussion ensembles is part of this overarching theme of Modernism," said Dahlman. "Percussion is one of those things that has been with us since the beginning of time, but it's just been in the last 100 years where it has reached a level of maturity where it has become its own art form, not just being used to communicate or ceremonially in religious and military settings."
Sō Percussion began the 2016-17 season with critically acclaimed performances at the Lincoln Center Festival, including a complete performance of Steve Reich's "Drumming" and a sold-out trilogy of Sō commissions and masterworks of the percussion repertoire.
Sō Percussion will begin its residency at Wright State on Jan. 26, collaborating with Noble, Michael Burritt  and Jon Bennett of the University of Rochester's Eastman School of Music, Rob Ferguson of Matrix Performing Arts and Nick Angelis, assistant band director at the University of Cincinnati. On Jan. 27, Sō Percussion will take part in a festival at the Creative Arts Center, with master classes and clinics. On Jan. 28, at 7:30 p.m., the group will perform in concert at Wright State's Schuster Hall.
The concert will feature pieces written by Burritt, Angelis and Treuting. They will also be performing together on a classic piece of the percussion repertoire — "Ionisation" by Edgar Varese.
Noble said what makes the percussion program special will be the presentations by nationally and internationally acclaimed artists, new music coming to campus and the high level of student participation. He said the concert will feature rudimental drumming, a nationally ranked indoor drum line, and both classic and modern percussion repertoire.
"It covers the scope," he said. "To a hobbyist musician or music lover, it's going to be fascinating and exciting. To an astute musician, it's going to be deep and profound. This will be a crowd-pleasing concert from start to finish. All are welcome."
"Percussion lends itself to the idea of interpretation," added Dahlman. "And it's fascinating not only to listen to, but to watch."
He said the dance portion of the Modern Art tribute — Rhoden and the Complexions Contemporary Ballet — will demonstrate the synthesis of different approaches to movement with music.
Walther, who took part in dance performances with Rhoden in the 1990s, said Complexions is one of the hottest dance companies on the planet and that she has dreamed of bringing them to Wright State ever since she started working at the university.
"The kind of style that they do is fiercely athletic," she said. "A lot of their scenes are en pointe in which the dancers move gracefully on the tips of their toes, but you're not going to be seeing classical ballet of old. That's one of the reasons why we chose them. It's definitely cutting-edge. It's definitely modern and where modern, contemporary dance is going in the future."
Modern dance was started as a rebellion against the traditional structure of ballet, but in recent years the two schools have come closer together.
"Complexions is a company that combines the two approaches beautifully. There is a fluidity to it," Walther said. "And it's not just ballet and modern; you'll see hip-hop influences in there."
A native of Dayton, who began dancing at age 17, Rhoden has performed with Dayton Contemporary Dance Company, Les Ballet Jazz De Montreal and as a principal dancer with Alvin Ailey American Dance Theater. His work has been presented in more than 20 countries, filling some of the most prestigious theaters around the globe. They include The Joyce Theater in New York City, The Bolshoi Theater in Moscow, The Mariinsky Theatre in St. Petersburg, the Maison De La Danse in Lyon, France, The Dorothy Chandler Pavilion in Los Angeles and The Arts Center in Melbourne, Australia.
As a performer, Rhoden has appeared in numerous television specials, documentaries and commercials throughout the United States, Canada and Europe and has been a featured performer on many PBS "Great Performances" specials. He has also directed and choreographed for TV, film, theater and live performances, including "So You Think You Can Dance," E! Entertainment's "Tribute to Style" and Cirque Du Soleil's "Zumanity." In addition, he has worked with or created works for such high-profile artists as Prince, Lenny Kravitz, Kelly Clarkson, The Drifters, Paul Simon, Billy Strayhorn, Marvin Gaye, U2 and Patrick Swayze.
From Feb. 13-18, Rhoden will begin a residency at Wright State and work with university dance students on one of his licensed works. On Feb. 18 beginning at 5 p.m., an open rehearsal and talkback session with Rhoden will be held in the dance studio of the Creative Arts Center. On April 20-23, a Rhoden work will be performed at the center in the Wright State Spring Dance Concert. The events will conclude with a Complexions residency Sept. 25-28, with a Complexions performance at Dayton's Victoria Theatre on Sept. 28.
Rhoden is the resident choreographer of The Charlotte Ballet and has taught and served as artist in residence at New York University, Juilliard, UC Irvine, Skidmore College, The Boston Conservatory and the University of Mississippi, where his 2004 Racial Reconciliation Project was credited as a catalyst for dialogue in a community that had been historically divided. Complexions is widely considered "America's Original Multicultural Dance Company" has remained consistent in delivering a profound passion for diversity.
"The company from the beginning was dancers of all races and all walks of life," said Walther. "They pride themselves on trying to make dance accessible to all audiences, trying to bring it away from just the culturally elite going to dance."
The entire MODERN program is presented as part of CELIA's Distinguished Visiting Artist Series with generous support from the Virginia B. Toulmin Foundation. Most scheduled events are free and open to the public.
For more information, visit www.wright.edu/modern