A gallery opening and lecture on the work of Sol LeWitt, regarded as a founder of both Minimal and Conceptual art, will be presented at Wright State University on Sunday, March 12.
LeWitt expert John Hogan, installation director and archivist of Sol LeWitt Wall Drawings housed at the Yale University Art Gallery, will lecture on LeWitt from 2:30 to 4 p.m. in room 280 of the Creative Arts Center.
That will be followed by the public opening in the Robert and Elaine Stein Galleries of the re-installation of a geometrical wall drawing originally overseen by LeWitt. Both events are free and open to the public.
The College of Liberal Arts events are part of Wright State's tribute to Modern Art called "MODERN: Reimagining the New. A window into the making of the Modern Art movement."
The prolific two- and three-dimensional art of LeWitt, who died in 2007, includes more than 1,200 wall drawings as well as hundreds of works on paper extending to structures in the form of towers, pyramids, geometric forms and progressions. The works range in size from gallery-sized installations to monumental outdoor pieces.
In 1981, a LeWitt wall drawing was installed at what is now the Trading Room in Wright State's Rike Hall. It was done in India ink over the entire length of the 69-foot-long wall. The six geometric figures were intended to be drawn within the shape of a cube, but were instead drawn horizontally because of the shape of the wall.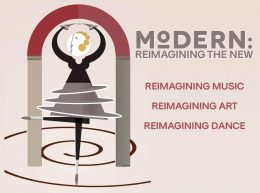 As part of Wright State's tribute to Modern Art, the reinstallation of the drawing at Stein Galleries consists of the same six geometric figures stacked in two horizontal rows to fit the location. The drawing is officially titled "359" but is also known as "6 Geometric Figures," which comes from the title LeWitt used in the original proposal.
Visiting professional artists selected by the LeWitt Foundation with the help of Wright State faculty and students began drawing on Feb. 6. LeWitt rarely executed his own drawings, but rather provided explicit, detailed instructions on how they were to be drawn.
Hank Dahlman, director of Wright State's Collaborative Education, Leadership and Innovation in the Arts (CELIA), said the re-installation is a way to show how the same idea can be executed in different ways – something those in the Modern Art movement were interested in examining.
"Art is never exactly the same way twice," he said. "As an art lover, I think immediately of the studies that Monet did of his lily pond – never two ways the same, always different light, always different times of year."
The entire MODERN program is presented as part of CELIA's Distinguished Visiting Artist Series with generous support from the Virginia B. Toulmin Foundation.
For more information, visit www.wright.edu/modern.