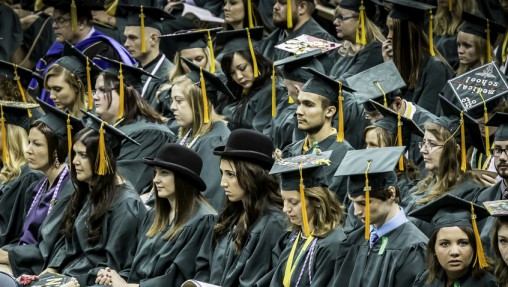 More than 2,100 students are expected to graduate during Wright State University's 2017 spring commencement ceremony Saturday, April 29.
The ceremony begins at 10 a.m. in the Wright State Nutter Center. Tickets are not required.
Ohio Speaker of the House of Representatives and Wright State alumnus Cliff Rosenberger '12 will give the commencement address.
The class includes graduates with 1,346 bachelor's degrees and 766 master's as well those awarded associate degrees and post-master's certificates.
The class features graduates from 58 Ohio counties, including 1,471 from the 16 counties anchored by Wright State's Dayton and Lake campuses. Graduates hail from 23 total states.
The class also includes 304 international students from 19 nations, with India boasting the largest number of foreign graduates with 190.
The graduating students from the class range in age from 19 to 61.
Graduates by college:
College of Education and Human Services: 359
College of Engineering and Computer Science: 545
College of Liberal Arts: 469
College of Nursing and Health: 125
College of Science and Mathematics: 299
Raj Soin College of Business: 297
Lake Campus: 55
The ceremony will be broadcast live on WSU-TV on Time Warner Cable channel 21.105 in the university dorms and Fairborn and regionally on AT&T Uverse channel 99 in the Dayton tab.
The ceremony can also be seen online at wright.edu/streaming.
Notable graduates
Going places
To say Nathan Balasubramanian wore many hats during his time at Wright State University is putting it lightly.
The graduate student has not only been president of the Graduate Student Assembly, he was also chief policy officer for the Student Government Association, served on the Dean's Advisory Council for the College of Education and Human Services and worked as a graduate assistant in the recruitment division for the University Center for International Education. He also served as the graduate associate for region IV-E of the NASPA — Student Affairs Administrators in Higher Education and was recently inducted into Omicron Delta Kappa, National Leadership Honor Society.
"I would like to move into public policy," Balasubramanian said. "I see myself going for a public office. I'm looking at international organizations like the UN."
But first, at Saturday's Commencement, he'll collect his master's degrees. Plural.
Balasubramanian is a double major in educational leadership, with a concentration in student affairs in higher education, and in cybersecurity.
Balasubramanian grew up in a small town in the Tamil Nadu in southern India, the son of a father who is in the export business. After he earned his bachelor's degree, Balasubramanian looked at hundreds of American universities to pursue a graduate degree and was drawn to Wright State because of its cybersecurity program.
"It's not offered by a lot of universities," he said. "And at a university like Wright State, I can grow with it."
And grow he did.
"Far away from a distant land in the eastern hemisphere, I decided to take my first flight to the birthplace of aviation, to the university named after the brothers who gave the world a taste of flying," said Balasubramanian. "Today, this place has given me the wings of courage to fly."
Flying high
The Airman of the Year for the 179th Air Wing in the Air Force Ohio National Guard this year was Wright State student Brontee Jeffries. Though the award was for her work done off-campus, the senior sociology major and French minor left her mark on campus too.
Jeffries volunteers and interns at the National Alliance of Mental Health's Clark, Greene and Madison Counties chapter, served as president of Wright State's Black Women Striving Forward and was a resident assistant at Wright State's College Park Community housing. She was also crowned Miss Black Wright State by the Black Student Union in 2014. Jeffries worked as a peer adviser in the Wright State Veteran and Military Center and recently became a member of the Alpha Kappa Alpha Sorority.
"I want to serve my country because I believe that if you want to see a change in the world or even on the local level, you have to want to do something about it and not just let things happen," she said. "So I wanted to serve so I can see on a military side of things how I can be of service to others."
Jeffries, who has served in the Air National Guard for three years, works as an aviation resource manager in the 179th Airlift Wing operations group. She deployed for nearly three months last spring. Then last summer, Jeffries traveled to France to put her minor in French to good use. She hopes to continue traveling during her time in the military.
Jeffries plans to pursue a Master of Business Administration with the goal of working in health administration in a hospital setting.
"During my time at Wright State, I have learned a lot about myself. I have grown in many ways that I am proud of, and I am excited to continue the legacy of what it truly means to be a Raider," said Jeffries. "So many people have been instrumental in all of my successes. I will always show my Raider pride, Wright State is a part of me, and I am a part of Wright State."
Steller performance
It was Tom Hanks. That was the clincher.
When Lindsey Steller was shopping for graduate programs, she spotted a commercial that Academy Award-winning actor Tom Hanks did endorsing programs at Wright State University.
Steller, who was traveling in Oregon at the time, scheduled a Skype interview with Wright State admissions officials and was soon admitted into the graduate program in higher education.
Saturday, Steller — a self-described Type A personality and workaholic — will graduate with her master's but has achieved much more in just a short time at Wright State. She worked as a graduate assistant in the Office of Student Activities, was president of a graduate student organization and was adviser for Raiderthon, the annual dance marathon that raises money for Dayton Children's Hospital.
She did two internships related to college admissions, has been hired at Xavier University as an admissions counselor and will start there after finishing her master's program in Cambridge with one of Wright State's partner schools, Anglia Ruskin.
"My time at Wright State has provided me with countless opportunities to grow, develop, and learn in all aspects of my life. One of my favorite things about Wright State is that everyone has a door to open and become a leader in some aspect," said Steller. "Everyone has the resources to flourish and develop into a person who will thrive post graduation."