Applause and laughter echoed through the Wright State University woods as 115 incoming Boonshoft School of Medicine students tackled team-building challenges.
"This gives them a real opportunity to bond with one another," said Gary LeRoy, associate professor of family medicine and associate dean of student affairs and admissions for the Boonshoft School of Medicine.
Students were split into several large groups to complete the challenges, which included Whale Watch, Mountain-Top, Spider Web and Space Web.
"Medical school is going to be really hard and I think it's important to have friendships and people that you can rely on when you're having a hard time," said Brittany Bowers, a first-year medical student.
The full-day exercise was conducted by the Wright State Office of Campus Recreation.
"All the different elements help them create and get some leadership skills as well as helping with their communication skills today," said Anthony Patitu, a graduate assistant in the Adapted Recreation program.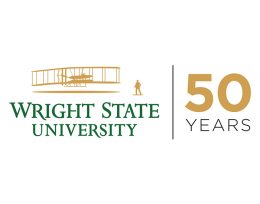 The team-building challenge took place on July 12 as part of the students' weeklong orientation.
In addition to Ohio, the class of 2021 comes from as far away as Arizona, California, Florida, Guam, Massachusetts and Texas. Eighty-one percent of the students are from Ohio, while 19 percent are from out of state.
Wright State became an independent institution in 1967 and spent the next 50 years growing into an innovative leader in affordable and accessible education. In 2017, it celebrates its 50th anniversary and sets the course for the next half century.