Wright State MBA student Allison Ingle was one of 20 students to attend the Women's Business Enterprise National Council Student Entrepreneur Program. She pitched her baking business, Confection, in front of a panel of judges from companies such as FedEx, Allstate, Bank of America, BP and Shell.
Ingle said she has always loved to bake. She competes in and frequently wins county fair baking competitions. Right now, she runs her business out of her house but hopes to eventually own a dessert truck and later a bakery.
Her hope for Confection is to make pastries that appeal to people with food allergies, such as allergies to gluten, nuts, soy or dairy. "My goal is to cater to everyone," she said.
She explained that her five-year plan is to operate a dessert truck so she can cater for parties and other events. In 10 years, she said she would like to open a storefront bakery.
Ingle traveled to Las Vegas from June 18-23 to attend the Women's Business Enterprise National Council Student Entrepreneur Convention. About 2,000 people attended.
"I wasn't expecting it to be as big as it was," she said.
For the first few days of the convention, Ingle attended workshops and networked with other business professionals.
She had the opportunity to listen to and interact with several guest speakers during the week, such as Suzanne de Passse, who has worked with the Jackson Five and is the president of Motown Productions; Linda McMahon, the administrator of the Small Business Administration in Washington D.C.; Randal Pinkett, the season four winner of "The Apprentice" and an inspirational speaker and entrepreneur; and Octavia Spencer, who won an Oscar for best supporting actress for "The Help."
"Just to be in the room with Spencer, oh my gosh, it was so cool. She's really awesome," Ingle said.
Later in the week, she attended a business fair, where she met people from a large range of businesses, from small local businesses to Google and Facebook.
"Being able to network with all of these incredible companies was such an incredible opportunity," she said. "Being in the presence of not only large corporations but many new business start ups, inspired me to develop many new ideas for Confection and continue to work on growing my business. I made so many great connections I never would have imagined."
Ingle participated in a pitch competition for her business. There were two parts to the competition. First was an elevator pitch, or a 90-second pitch, that would describe the business to a possible consumer.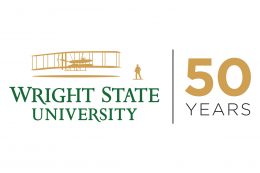 "That was definitely really cool," she said. "Just getting up in front of a couple hundred people and pitching my little baking business to top business executives was an experience like no other. That was definitely the highlight of the program."
Wright State celebrates its 50th anniversary as an independent public university in 2017, culminating with a special Homecoming celebration Sept. 29 through Oct. 1.